Taste of Valentine's in Kent
Kent, the garden of England, is fast becoming the go-to destination for foodies. But what have the passionate food producers in Kent got for the county's lovers this year?
Love Fudge Selection
Canterbury's Fudge Kitchen has launched its Love Fudge Selection containing many Great Taste Award winners … Strawberries & Cream, Sea Salted Caramel, Chocolate Rose, Lime Cocoa, Stem Ginger, White Chocolate & Raspberry, Lavender Cream, Penuche and Double Trouble Chocolate.
Fudge Kitchen fudge is hand made using only the finest, natural ingredients, hand decorated by our artisan team, with a distinguished heritage of over 30 years of traditional, gourmet fudge making, all gorgeously gift boxed!
Chocolate Lovers Large Gift Box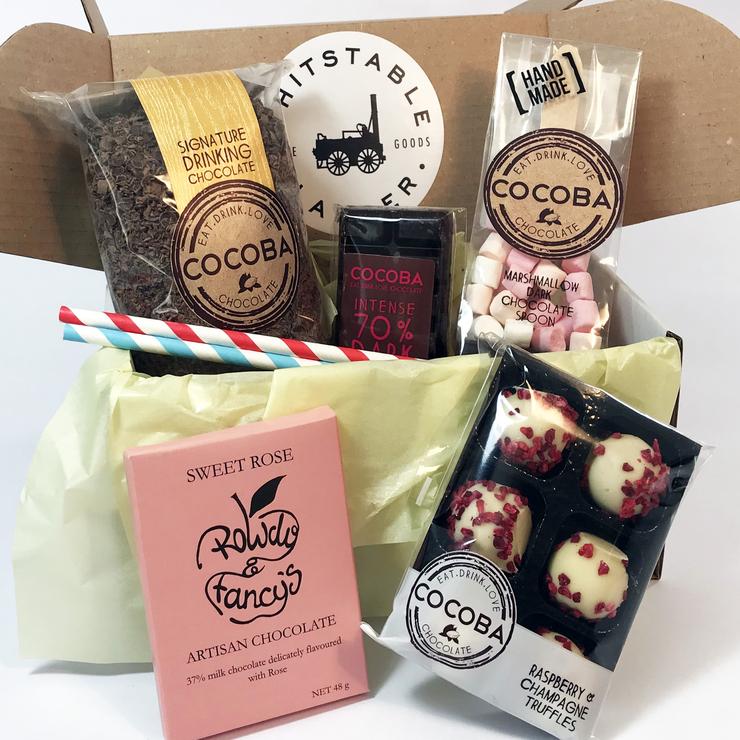 The selection from Whitstable Larder includes the Great Taste award-winning Cocoba range of chocolate delights to include their Signature Chocolate Drinking Flakes, Decadent Raspberry & Champagne Truffles, 70% Dark Chocolate Bar and Dark Hot Choc Spoon that comes with a helping of mini-marshmallows all made form the highest quality Belgium chocolate.
And as if that wasn't enough this box also contains a delicious bar of Rowdy & Fancy's Sweet Rose Chocolate. Made with absolutely no artificial ingredients, delightfully packaged in a smart cardboard box with a stylish design, the inner packaging is made from wood pulp and is compostable.
£25.00 www.whitstablelarder.co.uk
Large Valentine Heart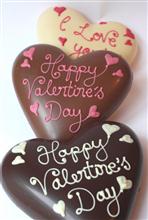 Madame Oiseau Fine Chocolates was founded in 2003, by the owner, and French Chocolatière, Sandrine May.
For Valentine's Day Sandrine and her team has created a hollow heart, handmade from delicious Belgian chocolate and decorated with hearts for your special Valentine. It comes wrapped in cellophane with a pretty ribbon. Available in Dark, Milk or White chocolate for
£14.00. http://www.madame-oiseau.com/
Gusbourne Sparkling Rosé 2014
Kick off your special night with a glass of Gusbourne Sparkling Rose. With wild strawberry fruit on the nose which is mirrored on the palate. Well-balanced and deliciously moreish. This estate is near Appledore in Kent.
12% ABV
£42, www.gusbourne.com/