Lost Sheep Coffee is now available in stores all over Kent
As you know, Taste Kent is all about the local stores and independents, but we recently discovered that buying a product range in the supermarket still directly supports that local producer. So we urge you, if you are shopping in supermarkets please do look on the labels for local products and local growers. Only by leading with our shopping habits can we show the supermarket buyers what we want to see on our shelves.
Lost Sheep Coffee's compostable plastic free Nespresso capsules can now be found in Morrisons stores across Kent, including Maidstone, Larkfield, Chatham, Sittingbourne, Faversham, Herne Bay, Margate, Dover, Folkstone and Canterbury.
The new look cube packaging is 100% recyclable and the capsules are made from Lignin "wood bark" a waste product of the paper industry, which is normally destined for incineration. Lost Sheep rescue this waste product and repurpose it into their compostable plastic free capsules.
The outer packaging is sourced from sustainable FSC (Forest Stewardship Council) approved forests, printed with vegetable ink and manufactured right here in Kent, supporting the local economy and reducing the food miles of the product.
Lost Sheep Coffee is fast becoming a household brand name to the families in Kent as it sits alongside the major brands in the tea and coffee aisle of all Kent's Morrisons stores.
Lost Sheep Coffee capsules are 100% compostable, certified oil-based plastic free, airtight for superior freshness and only ever contain grade 1a hand roasted speciality coffee.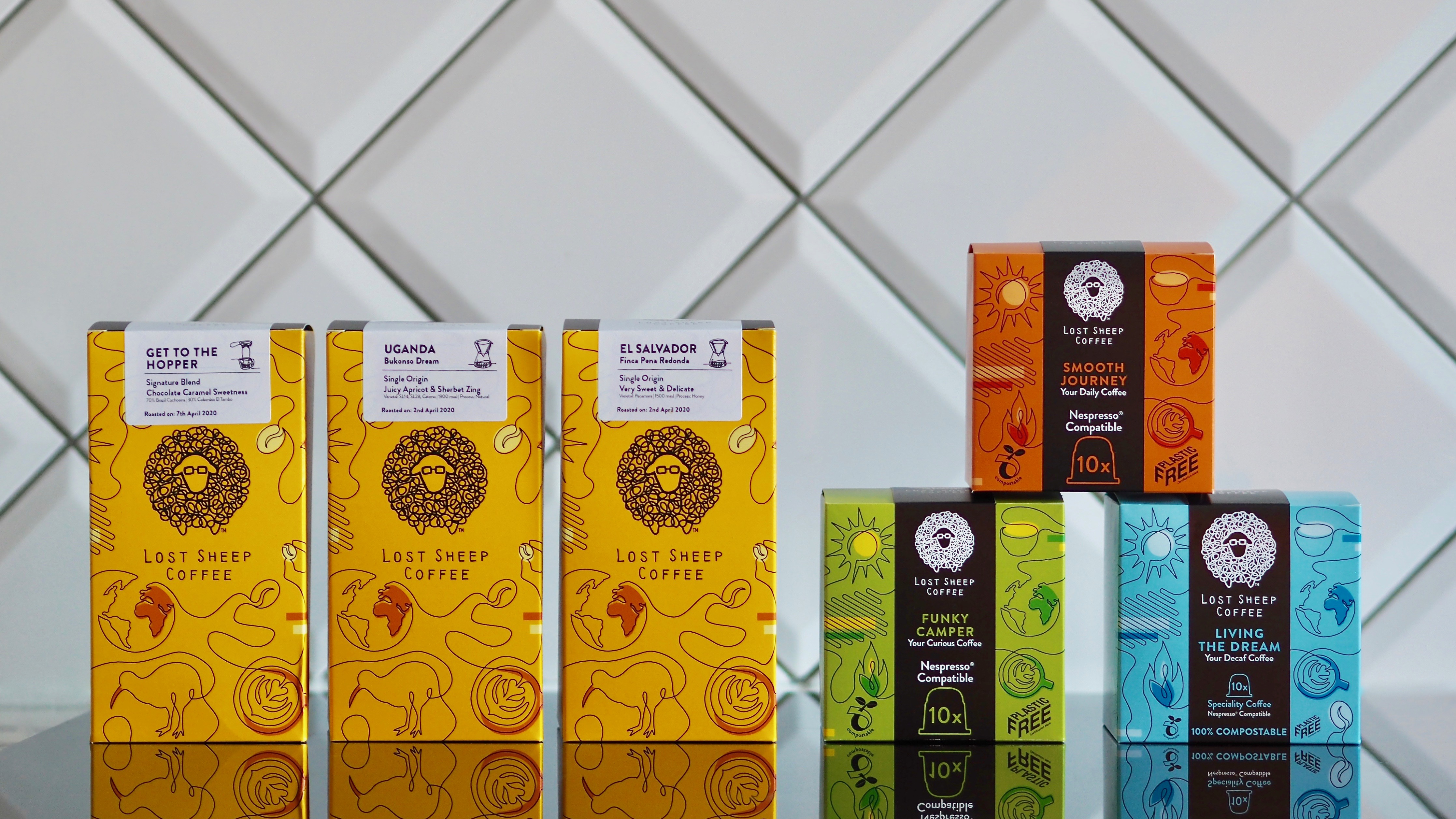 The popular capsules are made using only the world's top speciality grade Arabica coffee beans which are single origin and lovingly hand roasted in Whistable.
Stuart Wilson, Lost Sheep Coffee founder says, "Our compostable Nespresso capsules have been incredibly well received since its launch in 2019. We only use extremely high quality coffee and wrap it up in our environmentally conscious packaging. The capsules are totally free from oil-based plastics and will compost fully in 12 weeks in the correct conditions. Better still the capsules are made using material that was destined for incineration. We pride ourselves on being able to trace all our coffee back to the town or farm it was grown in. We know the families who grow our coffee beans and we pay our farmers nearly 5 times more than fair trade prices."
The capsules are certified plastic free & they are certified 100% compostable by the industry gold standard TUV Austria and. Crucially what makes Lost Sheep Nespresso capsules different is they are all hand roasted in house by Lost Sheep Coffee and are fully air-tight for superior freshness of 12+ months.
Smooth Journey £3.45 (10 x 5.6g pods)1: "Your Daily Coffee."
This speciality coffee is described as tasting of smooth chocolate fudge body with a light hazelnut finish. "Super smooth and sweet everyday coffee! Notes of milk chocolate and rich caramel when drunk, a coffee that doesn't need sugar and leaves no bitter after taste!"
Funky Camper £3.45 (10 x 5.6g pods)2: "Your Curious Coffee."
This speciality coffee is described as tasting of sweet Irish cream with a rich body and mulled winter fruits. RRP: from £3.45 Exciting micro lot, where the coffee cherries are left to ferment in their own juices! Expect Irish cream and a fudgy body.
Living the Dream £3.45 (10 x 5.6g pods): "Your Decaf Coffee"
This speciality coffee is described as a Big Bold Body, yet amazingly smooth with no need for additional sugars. "Super smooth and sweet everyday coffee! Notes of milk chocolate and rich caramel when drunk, a coffee that doesn't need sugar and leaves no bitter after taste!"