Working From Home: Survival Kit
(Disclaimer-contains some gifted items).
We all need a helping hand to get through the week right now and this week was made easier with a little help from these drinks and snacks.
Everybody's working days are different at the moment and for those of us working from home, we might be trying to maintain a sense of routine by sticking to set meal or break times and making sure we stretch our legs regularly (Pretty sure we are guilty of not doing this).
This week I started my days with a steaming bowl of Caffe Latte Porridge from The Great British Porridge Co. Simply add boiling water and stir. So easy. I love a bit of sweetness and this was a little too savoury for me so I added some frozen blueberries on the top most days and found that a chopped banana also worked really well to add a little sweetness. Also, a great way to squeeze in an extra 1 of my 5 a day.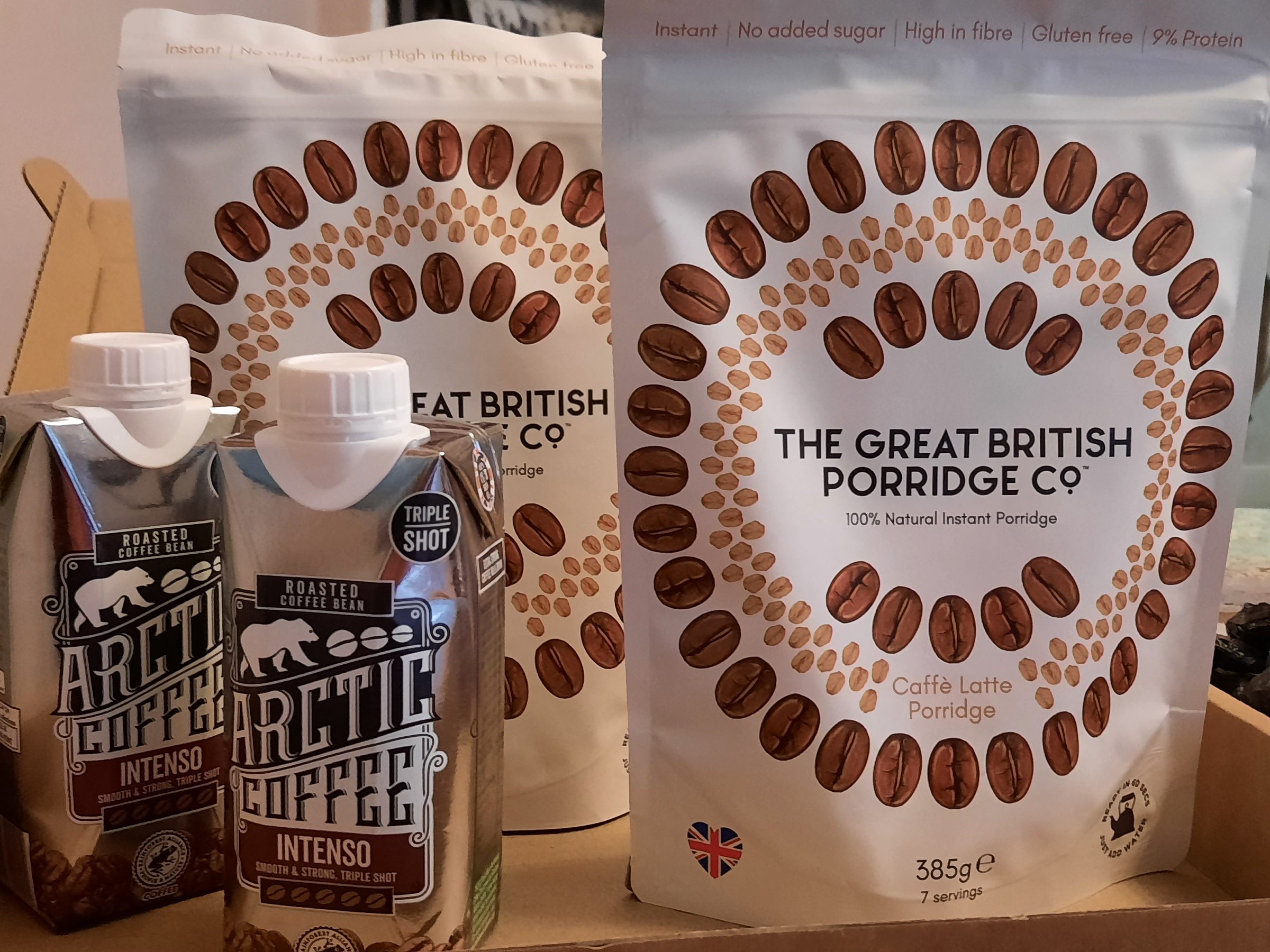 At 10 am every day, I have my second and last coffee of the day. Well, instead of boiling the kettle, I opened the fridge and grabbed a glass with some ice! Why? I might hear you ask? Well, Arctic Coffee has unveiled Intenso – a new smooth, strong, triple shot iced coffee and I was lucky enough to try it out.
Made in Devon, this carefully roasted 'five bean strength' chilled coffee is the perfect antidote for those looking for a refreshing drink that packs a punch when it comes to delivering on flavour.
Combining fresh Devonshire milk with Rainforest Alliance certified coffee beans, Intenso is a great-tasting alternative to a morning coffee and is only 50 calories per 100ml. It is certainly smooth and easy to drink with an intense coffee hit. Lovely.
Intenso is available in a 330ml carton from 18th January at Morrisons with an RRP of £1.00. Look out for Café Latte, Caramel Latte, Skinny Latte, and Mocha.
Mid-morning snack time soon comes about and this week's snacks have been really exciting and ones that I hadn't tried before so I was eager to dig in at 11 am.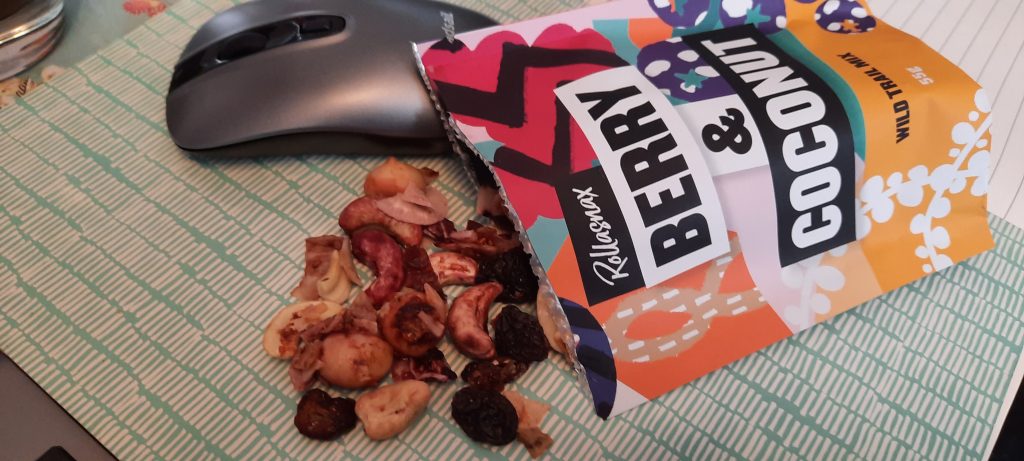 First, to the table this week was Rollasnax a new line of wild and wonderful vegan and gluten-free trail mixes from independent British granola makers, Rollagranola.
A combination of high-quality glazed nuts, spices, and seeds with bold, unconventional flavours elevate these trail mixes beyond anything else on the supermarket shelves – offering a memorable taste experience that's great for active folk on the go.
I am not a big fan of berry products but I love coconut so decided to jump straight in and try out the Berry & Coconut pouch first. Turns out, this was my favourite of the three varieties available. I loved the sweetness combined with the dry nuttiness of the coconut. A winning combination that filled me up till lunch. You can order these online at Rollasnax and look out for other products from them in supermarkets across the county.
Not sure about you but I hit a slump in the afternoon and need a little pick me up. Enter Tenzing. I grabbed the Raspberry and Yuzu can out of the fridge and took it on my afternoon walk and it really hit the spot.
With an initial fruity taste followed by the zesty Yuzu flavour and a refreshing hit of sparkling water, this was a delicious alternative to an afternoon cup of tea or glass of water.
Tenzing doesn't use any artificial ingredients in its products and pledges to donate 5% of its profits to environmental projects. The packaging they use is 100% recyclable and BPA-free.
Available in Holland and Barratt stores in Kent and also in Sainsbury's, ASDA, and Tesco.
My final snack of the day comes mid-afternoon and it was great to be able to try these Coffee Oat Muffin balls from The Protein Ball Co.
These were an instant hit with me, loved the texture, and the fact that they feel like a treat even though they're healthy is a great bonus!
The Protein Ball co has teamed up with The Great Porridge Co to kick start your next morning meeting with it's Rise & Shine Breakfast Club bundle. Not only is it energising and tasty, it's also completely natural, dairy free, gluten free and vegan!
The bundle includes:
A 385g (7 serving) bag of Caffè Latte Porridge
A 385g (7 serving) bag of Red Berry & Pumpkin Seed Porridge
A bag of The Protein Ball Co protein balls (all vegan) in each of these flavours: Peanut Butter (plant-based), Lemon & Pistachio, Raspberry Brownie and Goji & Coconut
You can sign up here.
That's another week of home schooling and working from home complete and it was definitely made easier with the addition of these great-tasting snacks and drinks. Change up your week and try something new.
Tagged:
covid19
home school
kent business
lockdown
Working from home