KARARA Set for an Exciting Launch!
With the government laying out plans for the loosening of the restrictions, it's time to get excited about new food offerings and tasty experiences.  
Spicing up the Kent food scene is KARARA, the new brand name for amazingly aromatic dishes created by local chef Paul Babra, bringing all the different aspects of the business together under the name KARARA meaning "spicy".
Karara is the culmination of Paul's vision; bringing flavours to life where you are. 
"Taste matters" says Paul Babra, Owner and Head Chef of Karara Foods. "I don't want to stay inside four-walls and cook, my team and I want to go to all the events, see people and share in their enjoyment of the healthy flavourful foods we create. These aren't just curries, this is so much more, it's an experience."
Come and experience for yourself with a covid-safe KARARA meal collection from the Karara marquee which is set up at the Macknade Food Village from Thursday to Sunday. Currently you can buy meals to take home and enjoy; Eating on-site outside will be permitted in line with government guidance from 12th April. Tarka Daal, Bhartha (made with smoked aubergine) and Punjabi Lamb Masala are some of the amazing dishes you have to try.
Paul has a loyal following across Kent who are not only fans of his delicious food but also his "karara" zest for life! Paul Babra and his team are known for catering huge events with their capability for producing hundreds of high quality, healthy and delicious meals at venues like Leeds Castle, Macknade Food Village and many other food events across the county. Invite a little more Karara into your life and enquire about events you're planning when the restrictions are lifted. Paul and his team are experienced caterers for weddings, festivals and large-scale events, including Bollywood nights in the south of the country at locations throughout Essex and Kent including Westgate Hall in Canterbury. Look out for more of these events once restrictions have ended.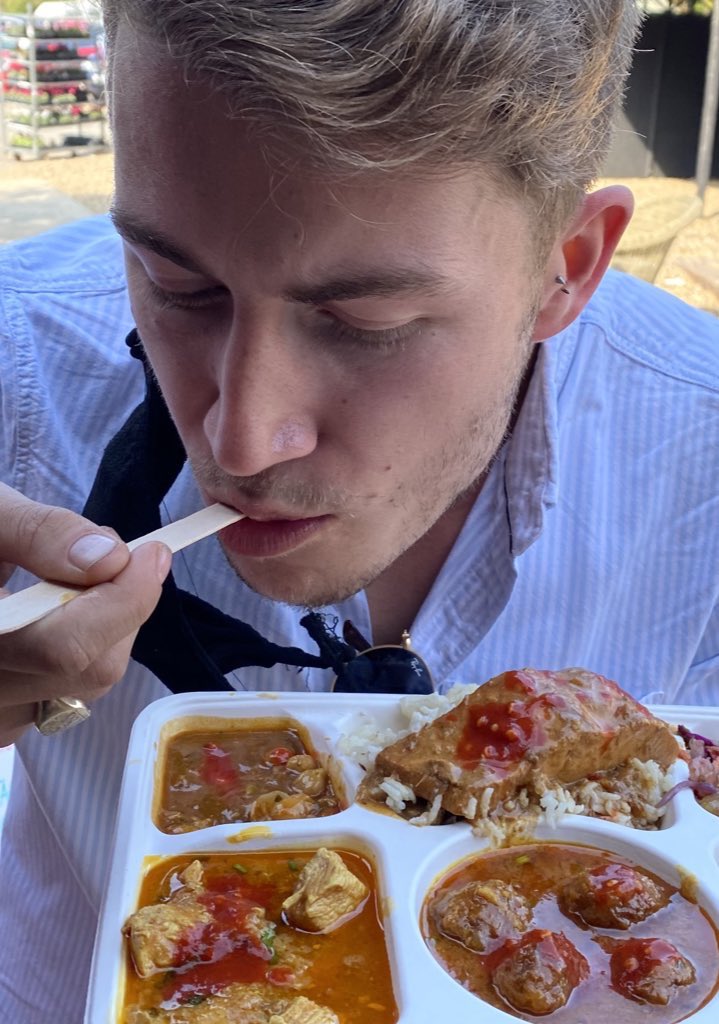 Already very active in the local community, Paul works closely with FareShare the charity in Kent that redistributes surplus food to charities and community organisations working with disadvantaged people across the region. During the pandemic he turned large catering packs of food into easy to access individual meal portions to feed families experiencing food insecurity and to boost morale of frontline workers including local Doctors, Nurses, Ambulance and Fire & Rescue services, Kent Police and South Eastern trains, Royal Mail as well as many friends and neighbours.
The excitement surrounding Karara doesn't stop here. Paul has new product developments in the pipeline involving a collaboration with a local brewer and a range of hot sauces on the horizon. Investments are also being made into a larger marquee and a food truck so that many more large-scale events can be catered for and to enable Paul to continue his outreach work.
Look out for the team when you next venture out and be sure to make your life a little bit more KARARA! In Paul's words, "Stay safe, eat well and be more Karara".
Tagged:
Aromatic dishes
Curry
faversham
Karara
Macknade
produced in kent