Michelin-Starred Chef Brings Fresh Flavours to Historic Sandwich
The Toll Bridge Restaurant and Bar in Sandwich is enjoying a renaissance with new owners having transformed the outdated, run-down restaurant into a lively and thriving business. Set in the heart of historic Sandwich in Kent, The Toll Bridge serves up imaginative food designed by Michelin-starred chef, Shane Hughes, alongside irresistible cocktails and carefully chosen local and worldwide wines.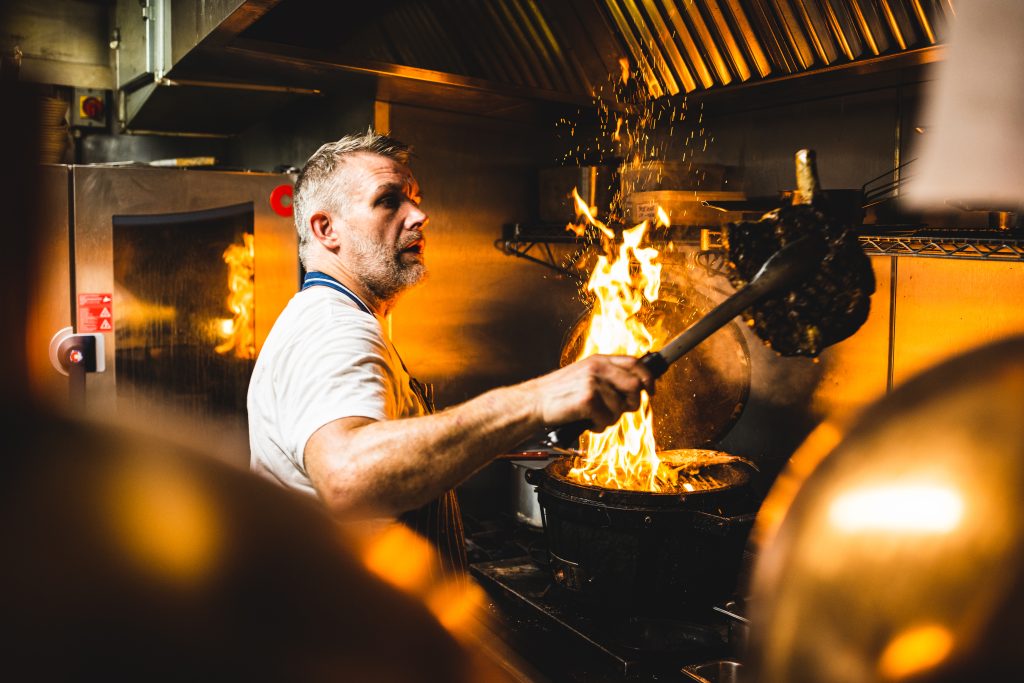 Having taken on The Toll Bridge at the height of the pandemic in 2020, new owners Jez Brown and Laurence Brown could not have purchased a restaurant at a more challenging time. Since then, they have fully renovated the 1980's fisherman's wharf building with a modern and contemporary styled interior, opened a new seated courtyard, and brought in Michelin-starred chef Shane Hughes to breathe new life into the menu. The Toll Bridge is now a firm favourite with locals and tourists alike with thanks to its ethos of offering great service, food, and affordability.
The food concept at The Toll Bridge is truly unique, where marinating and smoking take centre stage on the new menu. Celebrating authentic BBQ flavours and ensuring every bite has depth of flavour, diners can choose from Tender Five-Hour Smoked Pork Ribs, perfectly Grilled Fish or Chicken Slowly Smoked Over Beer and much more to tantalise the tastebuds.
Having honed his skills in Michelin-starred restaurants Ynyshir in Wales and Thackerays in Tunbridge Wells, Head Chef Shane Hughes joined the new owners at The Toll Bridge in 2020 and has created a distinctive menu which respects quality, local produce and packs a flavour punch.
"Sandwich already has some great pubs offering traditional pub food, so we really wanted to introduce something a little different at The Toll Bridge. Inspired by the American Smokehouse style and Korean BBQ dishes, we have created a menu which explores smoking, barbequing, and grilling, with beautiful cuts of meat, fresh local seafood and marinated vegetables", explains Shane.
Complementing the new food menu, The Toll Bridge is also established as the destination for the finest selection of cocktails, from Espresso Martinis to Strawberry Daiquiris or alcohol-free mocktails. And the experience continues with live entertainment; regularly hosting live music, tribute acts, local bands, and acoustic sessions for guests to enjoy. Follow @thetollbridge on social media for updates and news on the next live music event.
Situated on the banks of the River Stour in the beautiful medieval town of Sandwich Kent, The Toll Bridge Restaurant overlooks the waterway and of course the historic bridge, which still operates as a swing bridge today.
The restaurant has been extensively refurbished inside and out with new and old customers in mind. "Along with the new team here, we have put our heart and soul into this place, and the reward for us has been seeing people come together with their friends and family once again, enjoying good times and great food here at The Toll Bridge" comments new owner Jez Brown.
The enclosed courtyard area is ideal for enjoying Sandwich on warmer days with a cold beer or cocktail in hand and in the cooler months the al fresco space benefits from outdoor heating. Dog walkers are welcome to bring their four-legged friends into the courtyard with them to enjoy a dog–friendly ice-cream. For a relaxed dining experience, food can be enjoyed in the courtyard or bar area, while there is space for more formal dining upstairs with fantastic views out over the River Stour and passing boats.
The bar is open from midday till 11pm Wednesday to Saturday and 10pm Sunday.
The Lunch Menu is available from Wednesday to Saturday 12pm till 3pm, no need to reserve. On Sunday, food is served from 12pm till 5pm and the menu includes a traditional roasted Sunday lunch complete with Yorkshire puddings and all trimmings.
The evening restaurant is open for reservation between 6.30pm and 8.30pm Wednesday to Saturday. Book a table by calling 01304 613959 or visit thetollbridge.co.uk