Five of Kent's Best Confectioners
From the indulgent scent to the silky-smooth texture and mouth-watering taste, it's tough not to love chocolate. With Easter around the corner, we're shining a light on Kent's incredible artisan chocolate makers. We've rounded up five of the best local chocolate brands to indulge in…
Temper Temper Chocolate is a small family-owned chocolate business based in Tunbridge Wells, specialising in all things chocolate. Chocolate enthusiasts will love the made-to-order offering at Temper, not to mention the wide range of products. Temper creates mouth-watering truffles, traditional bars loaded with toppings such as Lotus biscuit, Jammie Dodgers, rocky road, fruit and nut and honeycomb among others. Chocolate buttons, chocolate smothered honeycomb chunks, chocolate dipped Florentines, hot chocolate flakes and even mini chocolate-pops are also on offer.
Not only can guests buy these delicious treats online, but they can also have a go at making their own chocolate goodies too. 'The Chocolate Experience' can be enjoyed through Parties, Workshops (including Choctail workshops – yes you heard that right, Chocolate Cocktails!) and Youth Groups.
Easter creations are currently gracing the website, with traditional, beautifully hand-decorated eggs, sharing bars, personalised easter bunnies and flat easter eggs loaded with seasonal toppings… just to name a few.

Stas Chocolate make exceptional, fine artisan chocolates with a great deal of attention to detail, all made freshly to order and delivered at their peak.
The Stas family has been in the fine chocolate business for over fifty years. They strive to create excellent and surprising chocolates, combining traditional favourites with continental chocolate making skills.
Trained in chocolate schools in Belgium, France, and Switzerland, the Stas family started making fresh cream chocolates and truffles with a customer base of small independent chocolate shops and hotels, but in no time, the brand expanded to making traditional English Chocolates for Harrods. What's evident is that although this initially small, family-run company grew to produce for big high-street names, it's never lost sight of its objective – to create high-quality fine artisan chocolates.
Everything at Stas Chocolate is made here in Kent by hand, with real care and passion, and almost all the products are gluten free.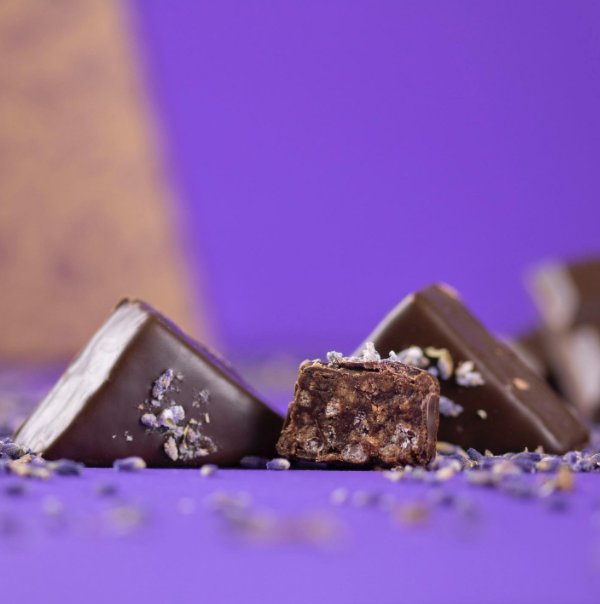 Known as a 'devilishly moreish chewy chocolate confection with a hint of crunch', Goupie is another delicious confectionery brand that graces our doorstep here in Kent.
But Goupie isn't a chocolate bar, or a brownie, or a fudge. So, what is Goupie, you ask? It's its OWN thing according to the brand, a uniquely textured chocolate confectionary.
Currently run by mum and daughter, Janet and Grace in Goudhurst, Goupie products are all made and packaged by hand. The brand sources only the best quality and sustainable ingredients, with many of these being locally sourced in Kent.
The triangular shaped Goupie chocolates come in Original and classics flavours such as Salted Sticky Toffee, Orange, and Mint, as well as more adventurous types such as Chilli, White Lavender, Cardamon, Mochaccino and even Sesame Butter.
Goupie lovers will be glad to know there's an IRL Goupie cafe known as The Goupie Chocolate House, which offers a seasonally changing menu (mostly sweet treats, of course!) and hot drinks including decadent hot chocolates. The Café opened last year and is currently closed as it's undergoing some work but watch this space as it's making a comeback!
Another fabulous chocolate brand which makes exceptional handmade artisan chocolate is Curious Cocoa based in Rochester.
The owner, Beth, was always keen to follow in the footsteps of her grandmother who made sweets, chocolate and sweet treats in her own store, W&M Taylor based in Northfleet.
Curious Cocoa brings new and exciting chocolate designs and flavours to the market by mixing traditional chocolate with modern confectionery techniques. The creations are lovingly made, handmade artisan chocolates, inspired by fine and unique flavours and colours.
Curious Cocoa offers a wider range of evergreen and seasonal products throughout the year, from traditional selection boxes, bars and slabs, stirrers and bombs, chocsicles and lollypops, smash hearts filled with even more delicious chocolate, and even boozy truffles, along with seasonal offerings such as Easter Eggs and Christmas gifts.
Last, but most definitely not least, we have Plamil. Now Plamil is a brand that was way ahead of its time when it started making its dairy alternative based products back in the 1960's. Plamil started with nutrition, ethics and the environment in mind, something that has only become a focus for many FMCG brands in recent years. The company was set up to produce an alternative to dairy milk, something that's now a regular on supermarket shelves and in our homes. They can lay claim to being the longest-running plant-based business in the UK.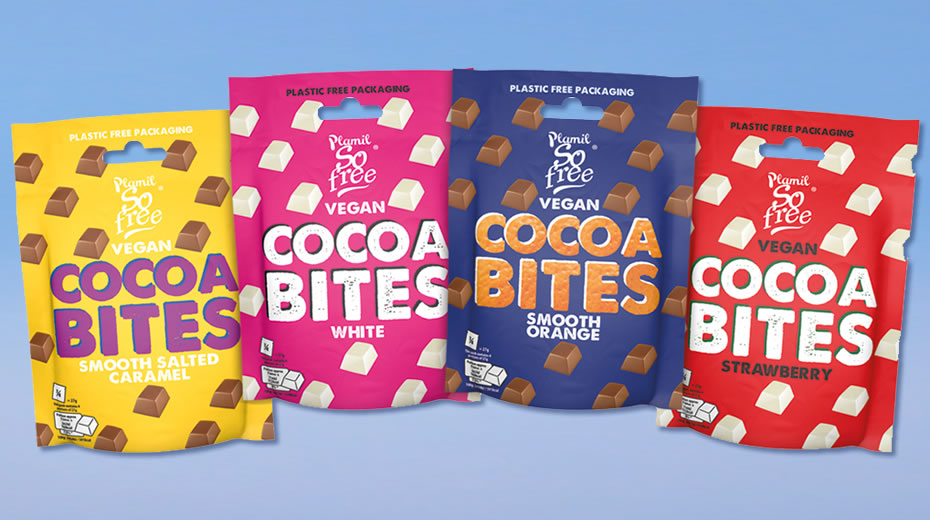 Plamil chocolate is almost 'guilt free indulgence', dairy and gluten free, and produced in a nut free factory. First up is the Plamil 'So Free' range which includes dairy free, organic and no-added-sugar chocolate bars across traditional milk, white and dark varieties with flavours including orange, mint, and espresso. The Cocoa Bites are not to be missed. Flavours include Orange, Salted Caramel, Strawberry, and White Chocolate, and they're the perfect little bites when you need a sweet treat. Vegan Christmas advent calendars and Easter Eggs are also on the menu, as well as a delicious range of organic chocolate spreads.
Plamil use organic or fairtrade ingredients and aim to provide good-tasting chocolate for all, including those with common allergies, vegetarians/vegans, and those with specific religious requirements. What's more, is that all of this is done in their warehouse in Folkestone.
What are you waiting for? Go bag yourself a Kentish chocolate Easter treat!