Compostable Coffee Capsule Producer To Expand in 2020
Kent's own speciality coffee roaster, Lost Sheep Coffee, marks record sales of its new Plastic Free Nespresso 100% Compostable Coffee capsules retail arm with a huge 322% increase in turnover, which is set to increase further with the confirmation of a national supermarket listing in November.
The micro-roastery and coffee shop brand launched the new Nespresso compostable Coffee capsules in February 2019 and completely sold out within eight weeks of launch.
From November Lost Sheep Coffee capsule range will be available in selected Morrisons stores from £3.45 for a pack of ten, by early 2020 the roll out is anticipated to be nationwide.
"We are keeping up with the current demand, but to ensure we meet the increase in future orders we are rolling out the national launch in two stages. The appetite for our plastic free 100% compostable capsules has been unprecedented, with customers buying them from all over the UK and Internationally. To ensure we can meet the anticipated supply demands we are now moving to larger premises, this will make us the largest Speciality Coffee Roastery in Kent" says Lost Sheep Coffee Owner Founder, Stuart Wilson.
"It is so satisfying for me to know that that tens of thousands of capsules so far have not gone into landfill and even if they did end up in land fill, they will still break down. It's great to think that that tens of thousands of all the capsules we've ever sold (if they have been used) would by now have now completely composted to nothing."
"We are planning to expand the roastery into new premises but still in Whitstable Kent. We are increasing production/storage capabilities and will be creating multiple new jobs, this will allow us to double our production. In early 2020 we will be rolling out the capsule and coffee bean range nationwide, on a much larger scale." Says Lost Sheep Coffee Owner Founder, Stuart Wilson.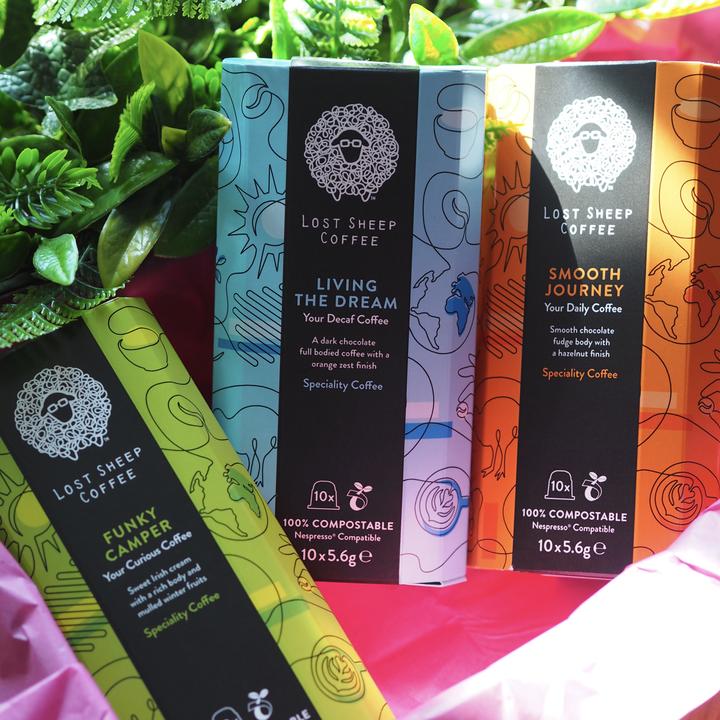 A phenomenal first year for Lost Sheep Coffees roastery shows accolades comprising:
Supplying Morrisons stores across the south east – a completely new listing;
The capsules were recently officially validated and certified totally plastic free by the A Plastic Planet company.
Finalist for The Grocer's Gold Awards "Green Initiative of the Year" 
Saved tens of thousands of capsules from landfill
Tens of Thousands of all capsules bought and used from Lost Sheep Coffee now completely disappeared and the rest will follow in the next 1-12 weeks
Judged as Independent's 'Best Buy' in coffee category 2019.
In terms of current production, Lost Sheep Coffee is selling:
approx. 2,500 capsules per week, a 100% increase on this time last year
USPs:
The capsules break down in 12 weeks to nothing
The capsules are fully air-tight for freshness for 12+ months
Lost Sheep Coffee hand roast all the coffee in house personally themselves, no third parties!
World's top Grade 1 speciality 100% Arabica coffee
The coffee is single origin and purchased directly from a farm in Brazil, then hand-roasted in Whitstable
The farmer receives nearly 5 times more than they otherwise would through traditional coffee importers
The farm is Rainforest Alliance Certified
The packaging is made using paper from FSC certified forests along with vegetable inks and is fully recyclable
The capsules are 100% Compostable!
100% Plastic Free
The capsules are certified 100% compostable by the industry gold standard TUV Austria
Kent based roastery, Lost Sheep Coffee has disrupted the coffee capsule market with its new Plastic Free 100% compostable Nespresso compatible range. Lost Sheep Coffee has coffee shops in Canterbury and Ashford's McArthur Glen shopping outlet. The coffee is direct trade single origin coffee made with the World's top grade 1 speciality 100% Arabica coffee. The pods, which are presented in an eye-catching 100% recyclable box, are completely air-tight and fresh on the shelf for 12 months.