Introducing Brian Chau Rodriguez, Our New Wine Writer
"Firstly, what a privilege it is to be writing about all-things wine for Taste Kent! Honestly, I feel just as excited as I would do if I was a tenacious pupil who was writing for the school magazine! Opportunities to write on such a platform about a particular area that one has fallen in love with are very few and far-between. So, as I'm seated here at my laptop screen sipping from a cup of camomile, I'm struggling to contain my excitement for any longer!
I'm here to bring you the very best of Kent's wine production; I'll be exploring some of the lesser-recognised vineyards and discovering some of Kent's hidden jewels. Who knows; there may even be some food along the way! I tend to find that many people my age (at least within my own circle of friends) prefer beer, ciders and spirits over a glass of wine any day. Although I do respect that, I'm proud to love and appreciate wine the way I do and that will never change regardless! But before I share the advice that I hope you'll find useful when trying to appreciate a glass of wine, allow to me to spill the beans on who I am, the influences behind my work and what to expect.
Having been born in Kent to a Spanish/Canarian mother and a Chinese father, I've always been exposed to both cultures and native cuisines. Inspired by my father, I've grown up with a curiosity to try new dishes and experiment with different flavours; I even had my own collection of real frying pans when I was a toddler! The family presumed I would grow up to become a chef; I became a waiter and barman and attended wine school instead. The beauty of wine education is that it's designed completely for adult learning, so it's never too late to learn something new! I've been fortunate enough to have been taught by some of the best wine educators in the country at the WSET School in London, who have taught me some very valuable lessons that I will of course be sharing with you! If you're as keen as I am to discover more about the world of wine, speak to the wine schools in Kent that offer the same qualifications, if you don't want to travel a long way. I've been awarded with two WSET wine qualifications and I'm currently studying for WSET Level 3 in Wines. Whether you're looking for those value-for-money wines, or simply want to enjoy a glass of wine differently, hopefully I can change your perception of wine in such a way, that you'll never look at a glass of wine in the same way again!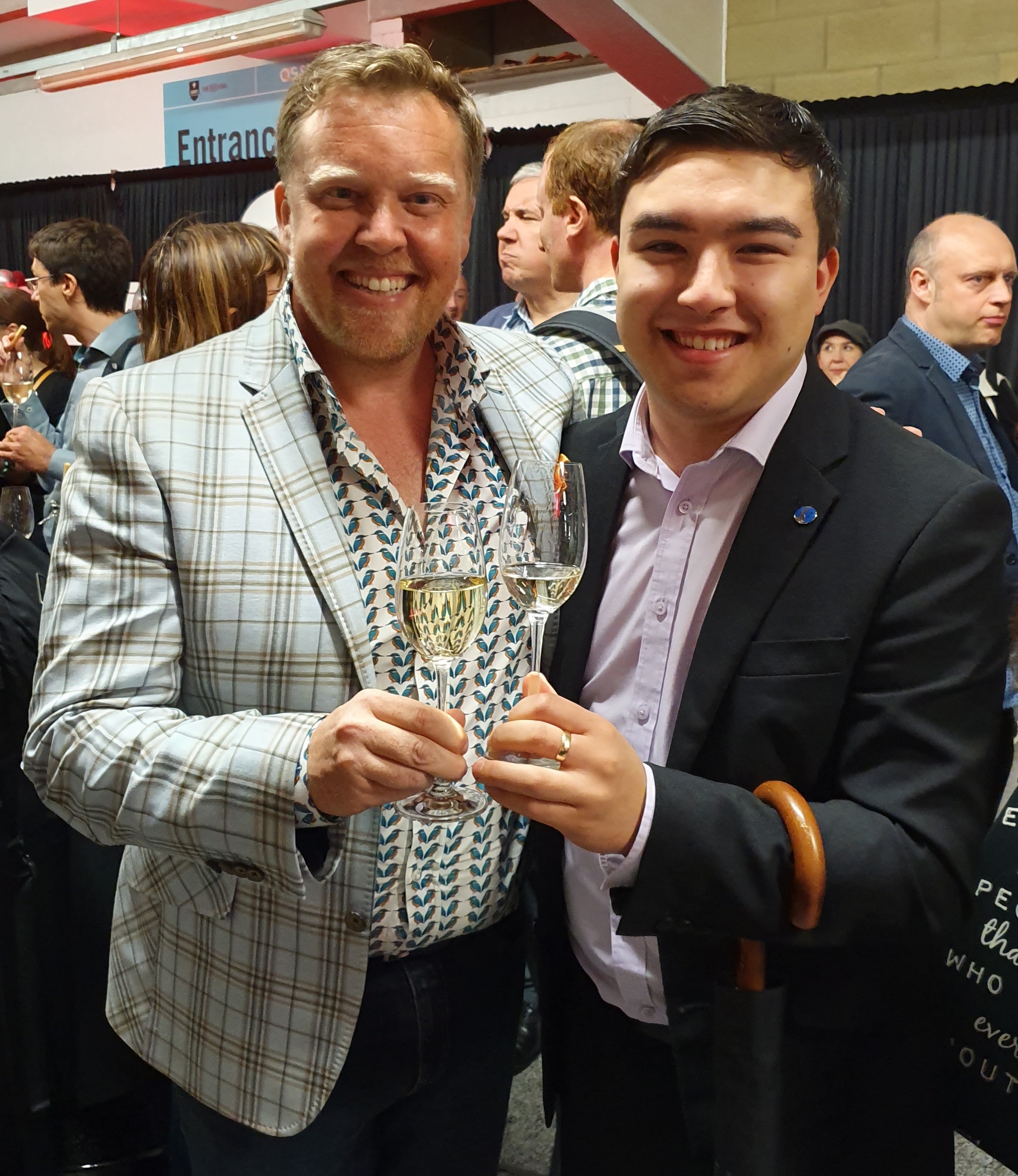 I've been in front-of-house hospitality since the age of seventeen, and worked around the South and South East region in countless hotels, pubs and restaurants. My professional and personal interests include: delivering the best-possible tailored service, pairing fantastic food with fantastic wine, exploring culture and enhancing client experiences. Throughout my career, I've had the pleasure of greeting the likes of Sue Perkins, Len Goodman, Bob Geldof and Princess Alexandra to name a few. I've had fascinating conversations with the legends of wine: Robert "Oz" Clarke, Olly Smith (who is the reason why I started writing in the first place), Jane Parkinson and the writer Susy Atkins. Jane herself was the first to open my eyes to the award-winning profile of English sparkling and white wines. When Jane and I met, we concluded that English reds didn't quite hit the mark in the same way as sparkling and white. Since then, 2018 became a record year for English red wine, and we've even seen Hush Heath Estatebottle an IWC award-winning "Red Miller 2018" made from 100% Pinot Meunier! Cheers, to the future of English red wine!"
Brian Chau Rodriguez