Macknade Christmas Hampers are Back!
A hamper is the perfect gift to send (and receive) at Christmas and leading independent food brand Macknade has created a wonderful selection to choose from, which are all available for nationwide delivery.
Whether you are looking for the ideal selection of Christmas cheeses for your boxing day cheese board or want to send a gift to a loved one showcasing the best that Kent has to offer, Macknade has a hamper or gift box just for you.
You can even choose to take the stress out of Christmas dinner itself by ordering the Christmas Feast Hamper… sparing you the need to do the big Christmas food shop and instead having it delivered directly to your door!
Choose from the following delicious hampers, all available to order online for delivery to England, Wales & Central Scotland from October 1st.
Kentish Christmas
£55, Order here.
Kentish suppliers are great all-rounders, but they also have the edge when it comes to Christmas. Favourites include a festive beer from Shepherd Neame (made in Macknade's hometown of Faversham!) and Christmas cookies from the Zingiberi Bakery, with dark chocolate, cranberries & seasonal spices. A wonderful festive gift, ideal for sharing… or not!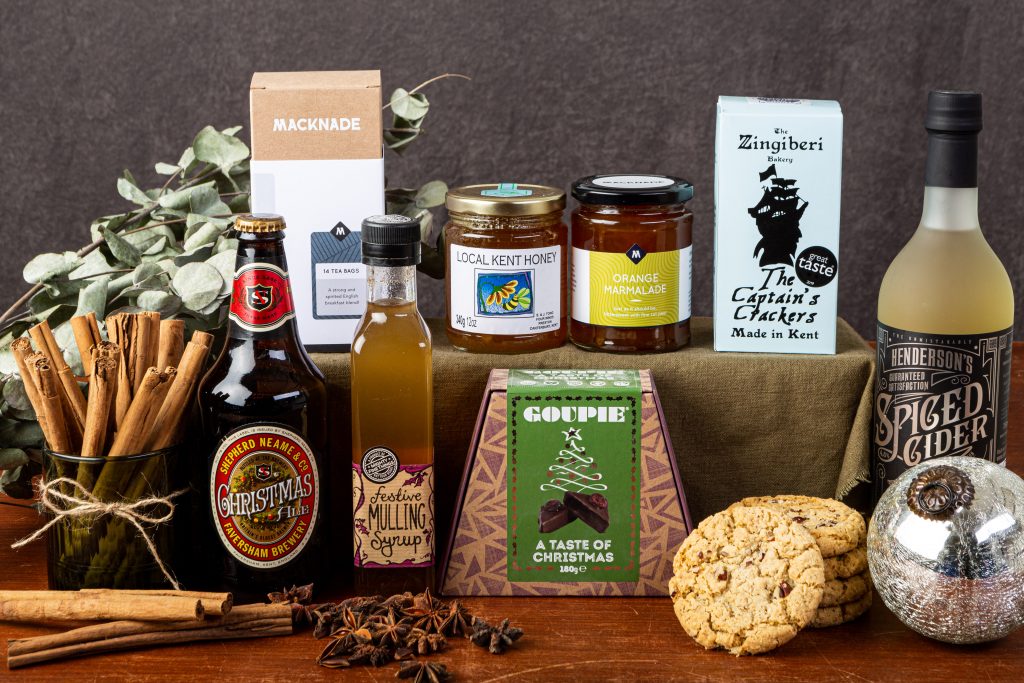 Contains: Goupie Taste of Christmas Chocolates, Hendersons Spiced Cider, Zingiberi Bakery Christmas Cookies, Shepheard Neame Christmas Ale, Local Kent Honey, Macknade Orange Marmalade, Macknade No1. Tea, Mighty Fine Things Festive Mulling Syrup and Zingiberi Bakery Captain's Crackers.
Presented in a Branded Macknade Gift Box with Ribbon.
Christmas Cheeseboard
£80, order here.
When it comes to cheese, it doesn't get more festive than a Vacherin Mon't d'Or, which here is the centerpiece of the Christmas Cheeseboard. Also featuring crowd-pleasing Black Bomber & Colston Bassett Stilton, enjoy with a bottle of Fonseca Port and a selection of Macknade's favourite fruit & chutney to go with it.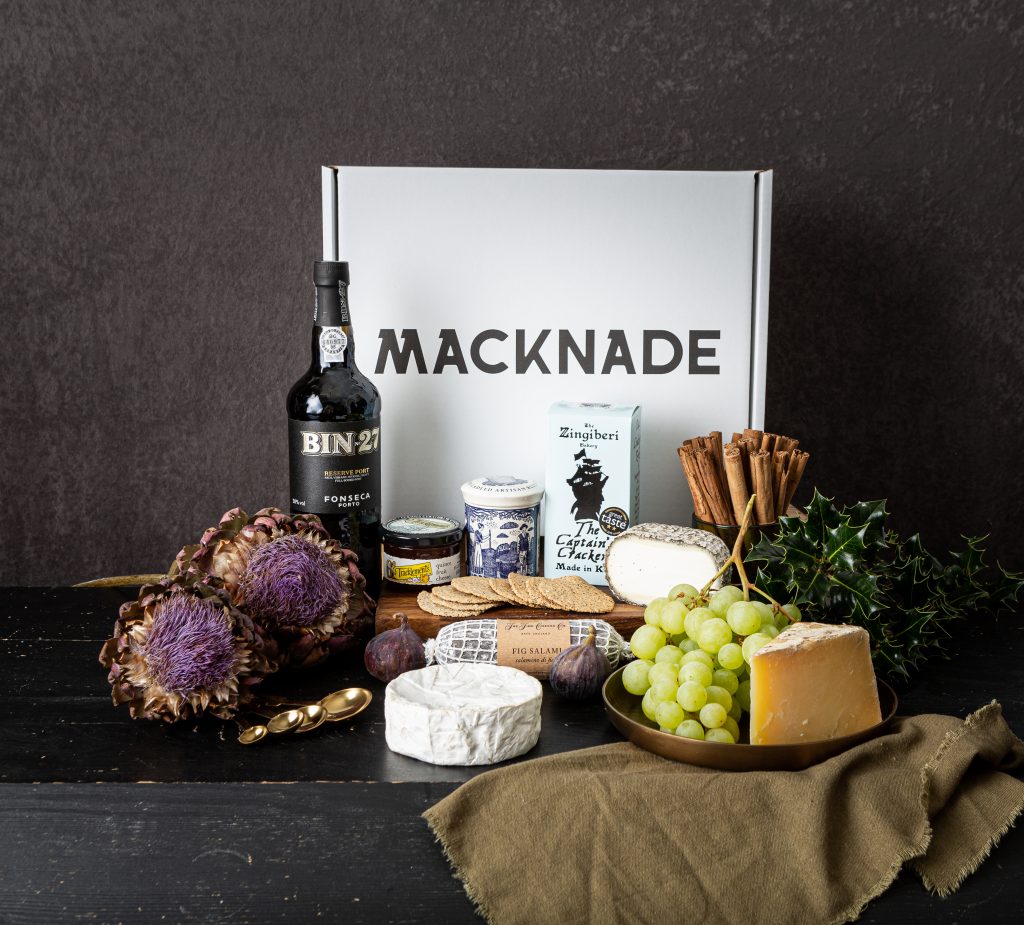 Contains: Zingiberi Bakery Captain's Crackers, The Fine Cheese Co. Potted Stilton, Fig Salami, Tracklements Quince Jelly, Bin No27. Fonseca Port, Vacherin Mini Mont D'or, Montgomery Cheddar, Goat Log, Figs and White Seedless Grapes.
Presented in a Branded Macknade Gift Box with Ribbon.
Christmas Feast
Bone-in rib of beef, check. Pigs in blankets, check. Smoked gammon, check. The Christmas Feast Box includes everything you need from Macknade's butchery for a celebratory lunch on Christmas Day & beyond! Serve with lashings of gravy, horseradish sauce and a selection of classic, seasonal veg.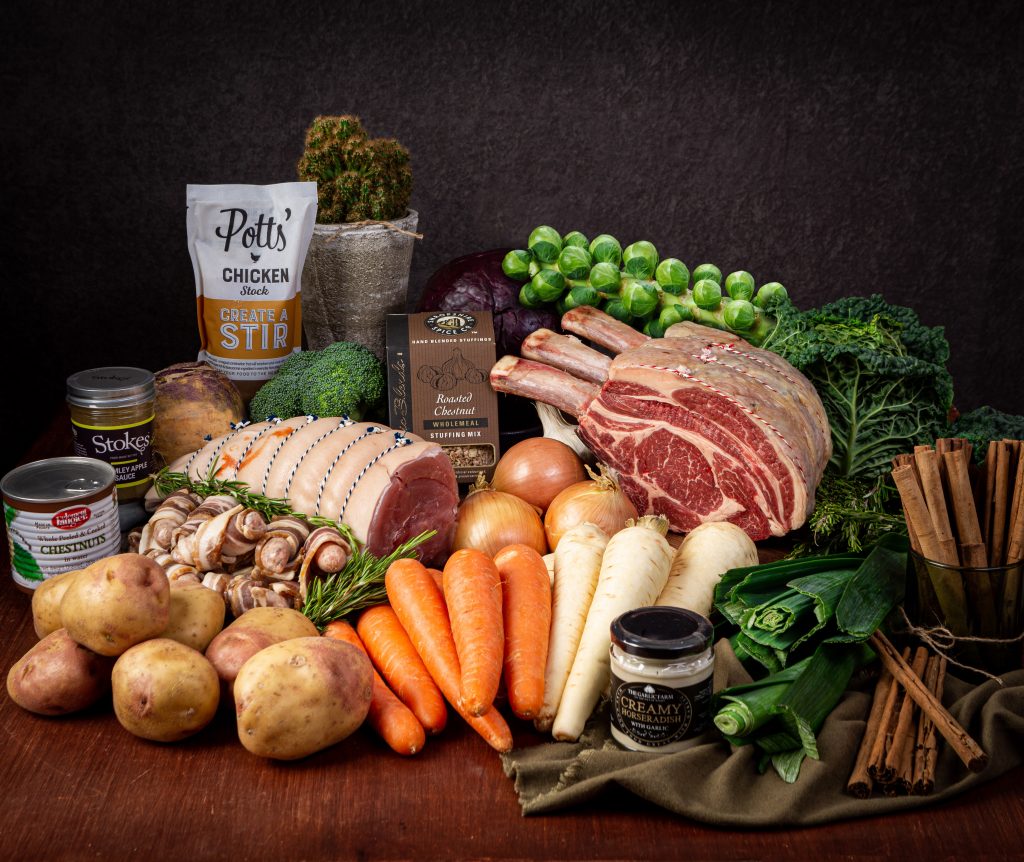 Contains: Dry Aged Rib of Beef, 12 Pigs in Blankets, Unsmoked Gammon Joint, Shropshire Stuffing – Roasted Chestnut, Roast Potatoes, Carrots, Onions, Sprouts, Parsnips, Stokes Bramley Apple Sauce, Fresh Rosemary, Red Cabbage, Clement Faugier Whole Cooked & Peeled Chestnuts, Garlic Bulb, Potts Gravy Stock, Broccoli, Swede, Savoy Cabbage, Leeks, and The Garlic Farm Creamy Horseradish.
Presented in a Branded Macknade Gift Box with Ribbon.
Christmas Favourites
£150, order here.
Brimming with all the classics, the Christmas Favourites hamper highlights Macknade's top festive products, which land in-store every October! You'll have everything you need to make this Christmas the best yet including a Macknade Christmas Pudding (with brandy butter of course!), mince pies, and a bottle of English fizz to crack open on the big day.
Contains: Mini Marzipan Stollen Bites, Turkish Delight, Chapel Down Sparkling Bacchus, Mighty Fine Things Festive Mulling Syrup, Wingham Bakery Mince Pies, Macknade Christmas Pudding, Orange & Champagne Marmalade, Wooden Spoon Lemon Curd, Lily Puds Brandy Butter, Nutcracker Chocolates, Mixed Nut Selection Box, Franks Luxury Shortbread, Boxing Day Chutney, Marzipan, Goupie Boozy Christmas Chocolates, Macknade No1 Tea, Macknade Minty Blend Tea, Zingiberi Bakery Christmas Cookies and Manaresi Ground Coffee.
Presented in a Classic Wicker Hamper Basket.
Italian Christmas
£150, order here.
Paying homage to the heritage of the founders of Macknade, the Italian Christmas hamper features a hand-picked selection of products that can always be found at the heart of a festive Italian table. Items include panettone (the classic Italian tear & share!), prosecco, cannoli, and mostarda (or mustard fruits) to enjoy with your Christmas cheeseboard.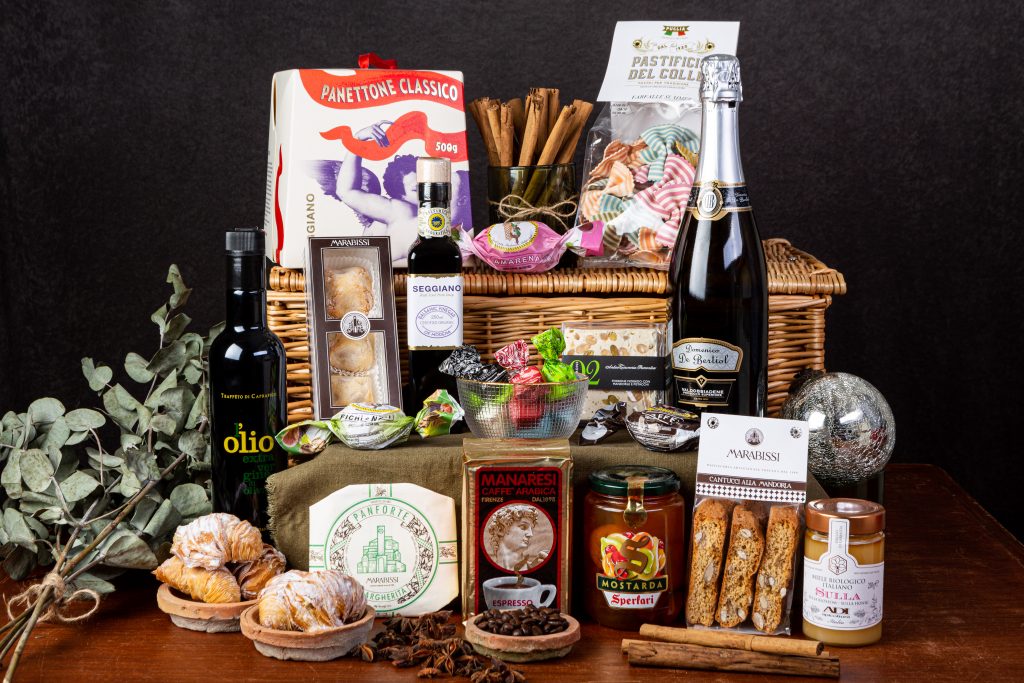 Contains: Mostarda Sperfari, Classic Italian Panettone, Seggiano Balsamic vinegar, Manaresi Ground Coffee, Pistachio Aragostine, Bertiol Prosecco, Soft Pistacio Nougat, Italian Wild Flower Honey, Margerita Panforte, Chocolate Ammaretti, Antika Truffle Selection, Almond Biscotti, Pastificio del Colle, Trappeto Di Caprafico Olio Olive Oil and Eugenia Amaretti Biscuits.
Presented in a Classic Wicker Hamper Basket.
Macknade also specialises in making bespoke hampers filled with the food & drink that you or your recipient loves the most, as well as being able to fulfil large corporate orders on request.
All hampers are available here. From October 1st.
Tagged:
christmas gift
Christmas; Christmas gift; Kent; food; drink;
hampers
Macknade
Shop local