PUMPROOM RESTAURANT OPENS at CHATHAM's COPPER RIVET DISTILLERY
With the easing of restrictions and the reopening of outdoor eating spaces, the new Pumproom Restaurant at Copper Rivet Distillery looks like a really exciting new venue to add to your 'must try' list.
This new fine-dining experience is planned to open in Chatham on Friday 16th of April. Undoubtedly one of the most unique spots in Kent, steeped in history and overlooking the river Medway.
Taste Kent has discovered the kitchen will be creating an exciting contemporary take on classic dishes, many of them influenced by the herbs, spices and flavours from around the globe, which formed an important gastronomic and medicinal element in Chatham's naval history.
The restaurant will open initially under the arches and on the wood decking overlooking the River Medway, with views of Queen Elizabeth 1st' gunpowder store, the grey stone castle of Upnor on the opposite shore. On sunny days and evenings during the summer months guests will be able to sample the distillery's cocktails and the restaurant's dishes on the wooden decking beside the river.
The distillery was built in 1873 as a pumphouse, to pump water into and out of the dry docks as ships were mended or built. It is in a stunning setting for restaurant lunchers or diners, surrounded by water on both sides, and its riverside windows offer great views.
Copper Rivet Distillery's Commercial Director, Stephen Russell, comments:
"Outstanding food creations by head chef Will Freeman are complemented by expertly curated wines from Kent and from around the world, as the Russell family has had expertise as wine buyers for over 40 years."
Signature cocktails will feature the best spirits the world has to offer, including our own three gins, our vodka, our English Grain Spirit and our newly released Masthouse Single Malt Whisky.
Maitre d' Dom Schefferlie adds: "Our team at the Pumproom will be using seasonal ingredients to maximum effect and, in keeping with the ethos of the distillery, will be taking a keen interest in provenance – using local ingredients wherever possible, be they locally grown vegetables, locally reared meat or locally landed fish such as Rye Bay cod.
"Both the restaurant and the distillery count food miles and the minimising of waste as key deliverables."
Hints of inspiration filter through from the sister distillery next door, as Copper Rivet is one of the country's leading and most innovative craft producers of farm to glass spirits.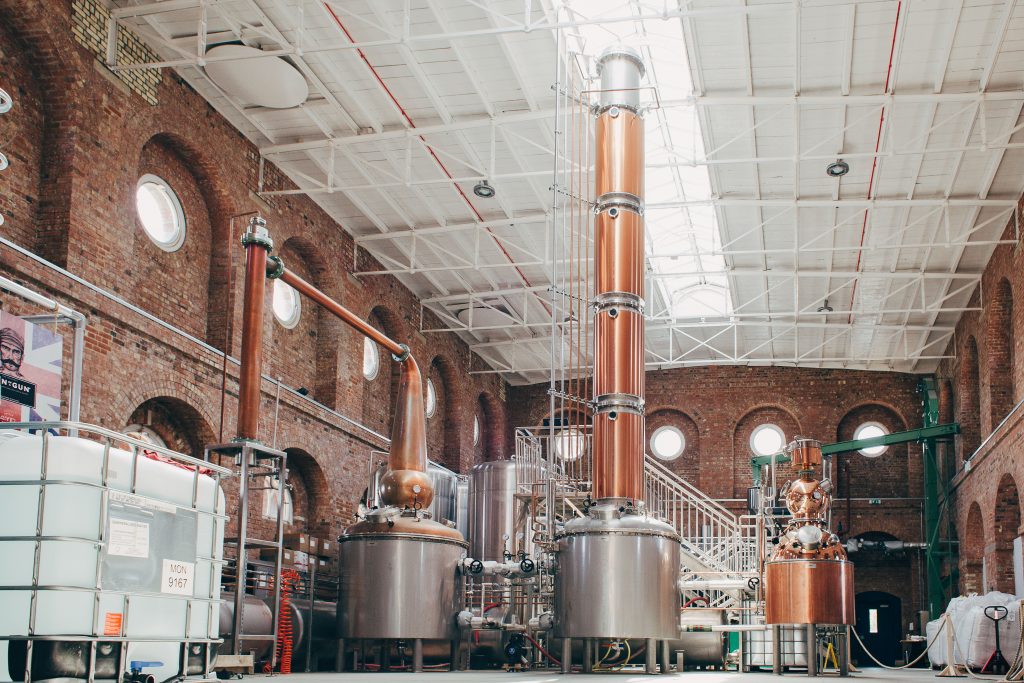 Several of the dishes will incorporate both the spirits and grains in their seasoning or their cooking.
Set in such an historic building of the Industrial Revolution, the Pumproom will offer a relaxed environment to enjoy a very special eating and drinking experience.
Signature dishes are likely to include,
'Bone marrow, chicken crackling, smoked eel, cockles, radish & toast' – starter.
'Ash rolled 40day aged fillet, beef shin ragout, pearl barley, shallot, garlic' – main.
'Granny Smith tart, toffee popcorn, Masthouse Whisky custard' – pud.
The Pumproom will start by offering a limited menu until social distancing is eased.
Bookings for both seated a la carte dining and drinks/tapas will be via URL: www.crdpumproom.com and, if they have space, they will try to accommodate walk-ins. 01634 931122