Taste Kentish Ales and join the 'flock' on a Shepherd Neame brewery tour
The Taste Kent team were invited to Shepherd Neame last month, to get a fascinating insight of what goes on backstage at Britain's oldest brewer.  
Located on Court Street in the medieval market town of Faversham stands the beautiful old brewery where they've been using local, natural ingredients for hundreds of years to produce distinctive Kentish ales.
Founded in 1698, although we learnt that there is evidence that the brewery pre-dates this time, Shepherd Neame has been practising the ancient art of beer brewing for hundreds of years and is now a respected household name in the world of brewing.
As we walked in, we were welcomed by the low ceilings and wooden beams that are synonymous with olde English traditional pubs, giving us that sense of taking a step back in time.

We were warmly greeted by our 'Shepherds', Georgina and Nick, aka our tour guides for the next couple of hours. Their knowledge and passion for the family-run brewery made for an informative and amusing excursion. Donning our high-vis jackets, we become part of our Shepherds' Flock – the yellow 'Shepherd' jackets for the guides and orange 'flock' jackets for the visitors are a nice touch.
We were taken through the heart of their historic building and shown their various brewing and fermentation vessels, including traditional mash tuns and steam mills. Each littered with plenty of tales and trinkets that bolstered the experience's context. A highlight is two beautiful stained-glass windows commissioned to celebrate the brewery's 300-year anniversary, a visual representation of the brewery's history, depicting scenes of Kentish hop gardens, a Bishops Finger signpost and a Spitfire. 
Next, we followed our Shepherds downstairs to the Old Brewery Store where they housed displays of old delivery vehicles, part of a Spitfire and bygone pub signs, amongst other Shepherd Neame memorabilia. This is also where the brewery hosts events and weddings and there was a wedding that weekend, so the main room was decorated for the Big Day.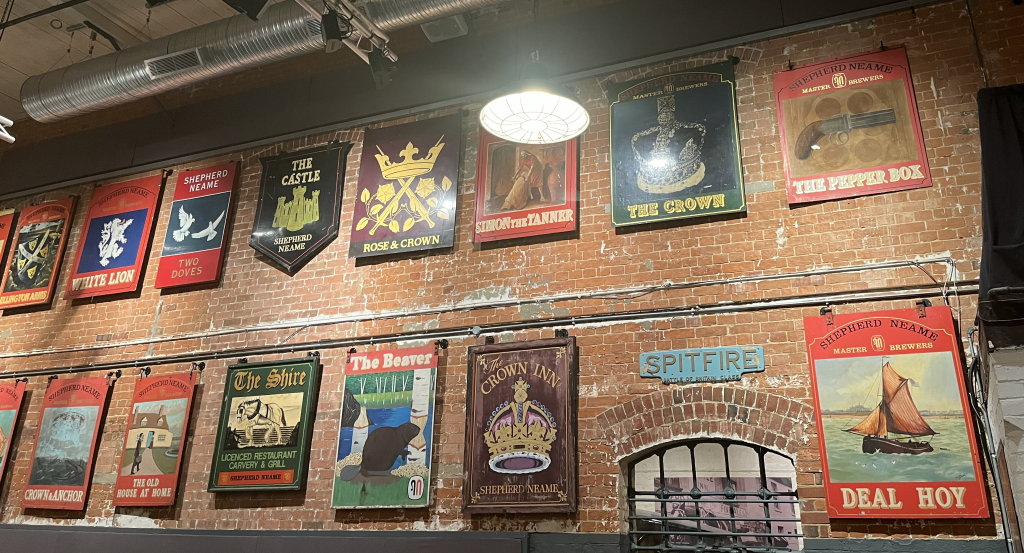 Once Georgina and Nick finished up the tour, it was back to the brewery visitor centre bar for the tutored tasting session. We were all given flights of six Shepherd Neame beers (Spitfire, Whitstable Bay Blonde, Master Brew, Bishop's Finger, 1698 and Whitstable Bay Dark Stout) before being a given some top tips on how to check the beer's lacing, colour, condition and clarity and delve into the different aromas.   
The Whitstable Bay Blonde was a firm favourite, while lots of our fellow tour guests voted for the Spitfire and Whitstable Bay Dark Stout.
A great trip out for beer lovers, history buffs, and those on the hunt for new discoveries! 
Tagged:
brewerytours
kent business
kentfoodanddrink; producedinkent
kentish beer