Kent Coffee Roaster launches Compostable Capsules
Stuart Wilson, 37, founder of Lost Sheep Coffee has launched a completely 100% compostable Nespresso-compatible coffee capsule made from Wood.
The Kent based business person has launched this innovative environmentally friendly plant-based capsule filled with the luxury single origin direct trade grade 1 speciality coffee, for which Lost Sheep Coffee is famous.
Lost Sheep Coffee is a Whitstable based micro-roastery with outlets in Canterbury and Ashford's McArthur Glen shopping outlet.
The capsules are made using the world's top speciality grade 100% Arabica coffee beans which are single origin and direct trade from Brazil, hand-roasted in Whistable.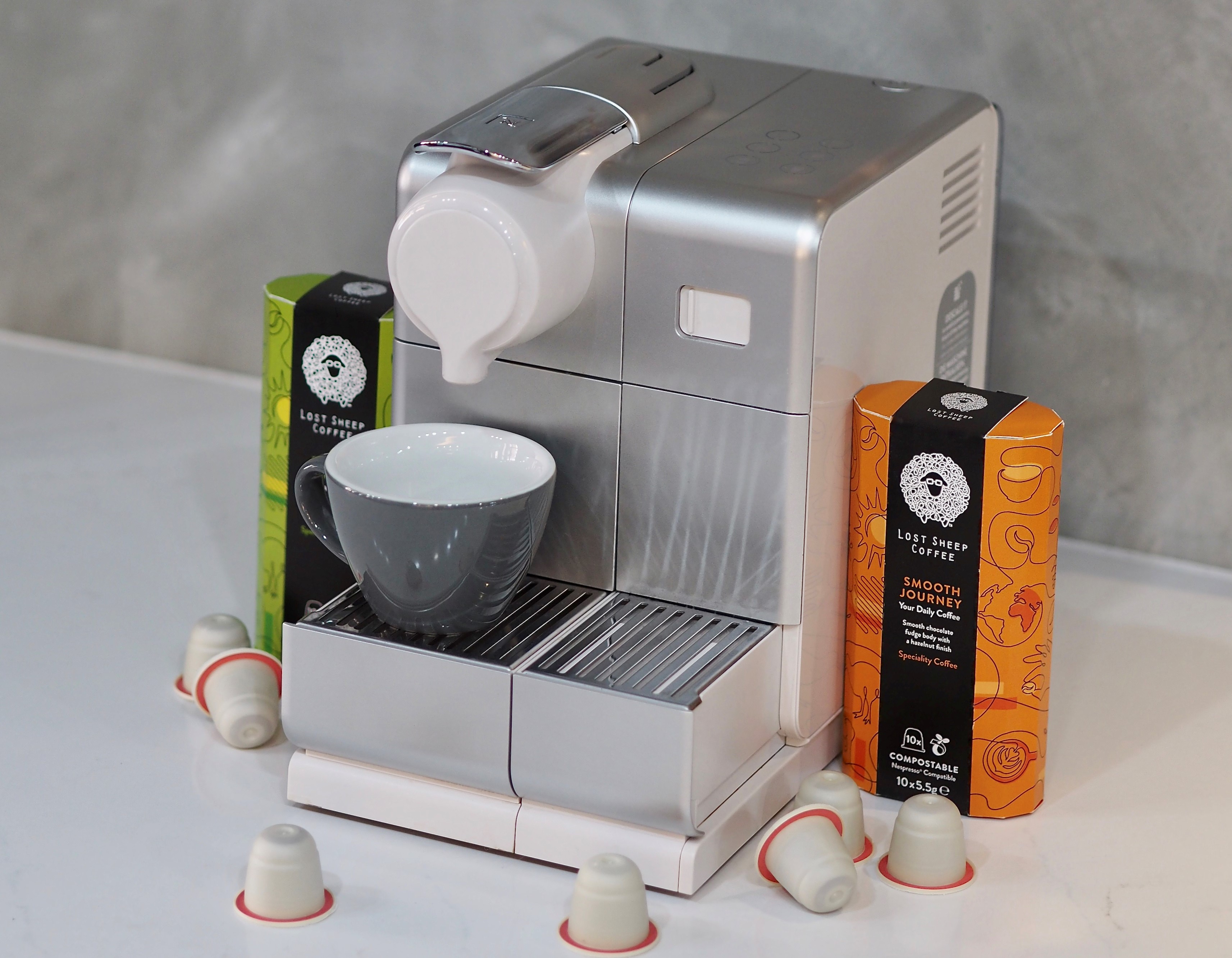 Stuart Wilson, Lost Sheep Coffee founder says,
"We know from our coffee shops that ourcustomers want the convenience of being able to experience a really quality cupof coffee at home but without the guilt of chucking more plastic into land fill.So it was imperative to the Lost Sheep Coffee team that we were able to deliverour exceptional quality coffee at home in a format that is entirely compostable.
"Until recently, compostable capsules had a very short freshness life as the coffee inside would go stale without additional protective outer packaging. Without plastic or glue it is incredibly difficult to create an air tight seal over the product and as we all know oxygen makes your coffee go stale, something none of us want. After extensive research and development our new capsules achieve a level of oxygen impermeability which enables Lost Sheep Coffee to guarantee a minimum shelffreshness of 12months!
The capsules are certified 100% compostable by the industry gold standard TUV Austria and, crucially, what makes Lost Sheep capsules different is they are fully air-tight for freshness of 12+ months.
Smooth Journey £3.95 (10 x 5.6g pods)1: "Your Daily Coffee."
This speciality coffee is described as tasting of smooth chocolate fudge body with a light hazelnut finish. "Super smooth and sweet everyday coffee! Notes of milk chocolate and rich caramel when drunk, a coffee that doesn't need sugar and leaves no bitter after taste!"
Funky Camper £3.95 (10 x 5.6g pods)2: "Your Curious Coffee."
This speciality coffee is described as tasting of sweet Irish cream with a rich body and mulled winter fruits. RRP: from £3.95 Exciting micro lot, where the coffee cherries are left to ferment in their own juices! Expect Irish cream and a fudgy body.