Taste Kent Meets Karen Dean
This week, Taste Kent caught up with Karen Dean, MD of Kent-based premium frozen food supplier, Field Fare.
You took over Field Fare in 2003, how has the business changed since 1977?
In 1977, field fare was not wholesaling to other farm shops – it had five of its own shops which were food hall concessions in garden centres, selling loose, premium quality, fresh frozen fruit and vegetable lines.
As farm shops started to take off in the very late 1990's / early 2000's, a number of these fledgling businesses approached us wanting to know where we sourced these products from … which is how we began to wholesale. I am very pleased to say that a number of these farm shop pioneers and early customers are still with us today.
The decision paid off. When I started in 2001, as the office manager, there were around 80 customers. By 2003/04 we had 200 customers and by 2018/19 we had almost 400. And we continue to develop our product range too, both to differentiate and in response to changing demand by a more educated and sophisticated consumer, looking for provenance, environmental solutions and for premium, international, specialist and more innovative products, including plant based.
What started as single fruit and veg lines, then, developed into including loose serve baked, pastry and patisseries items, fish products and mixed fruit and veg medleys. To that we began to add international mixes – Chinese Stir Fry, Vegetable Biryani and Tuscan Roasting Vegetables medleys, for example, and authentic products from specialist producers.
In 2014, we started to develop our parallel premium ready meals line as a way to grow the business and offer our customers all their frozen food requirements in one environmentally sound delivery. And recently we have focused on growing our vegetarian and vegan offering in response to consumer demand.
2. You were perhaps one of the first UK businesses to see benefits in reducing packaging, what inspired this?
Given our close connections with British Farming, the environment has always been a central concern of field fare. 40 years ago, we started with loose serve produce, scooped in precise amounts into branded plastic bags. It was clearly a visionary idea to reduce packaging and plastic back then, alongside the eco-benefits of freezing, which reduces food waste, air and food miles. We subsequently replaced our plastic bags with degradeable ones, but as the plastic waste situation grew in both gravity and awareness, and consumers began to look for solutions, we realised that had the perfect business model in place to encourage some real changes and, in 2014, began to actively push our stockists to offer Bring Your Own reusable container options. It is a campaign that we feel passionately about at field fare, as our chance to contribute to plastic reduction and changing shopping mind sets.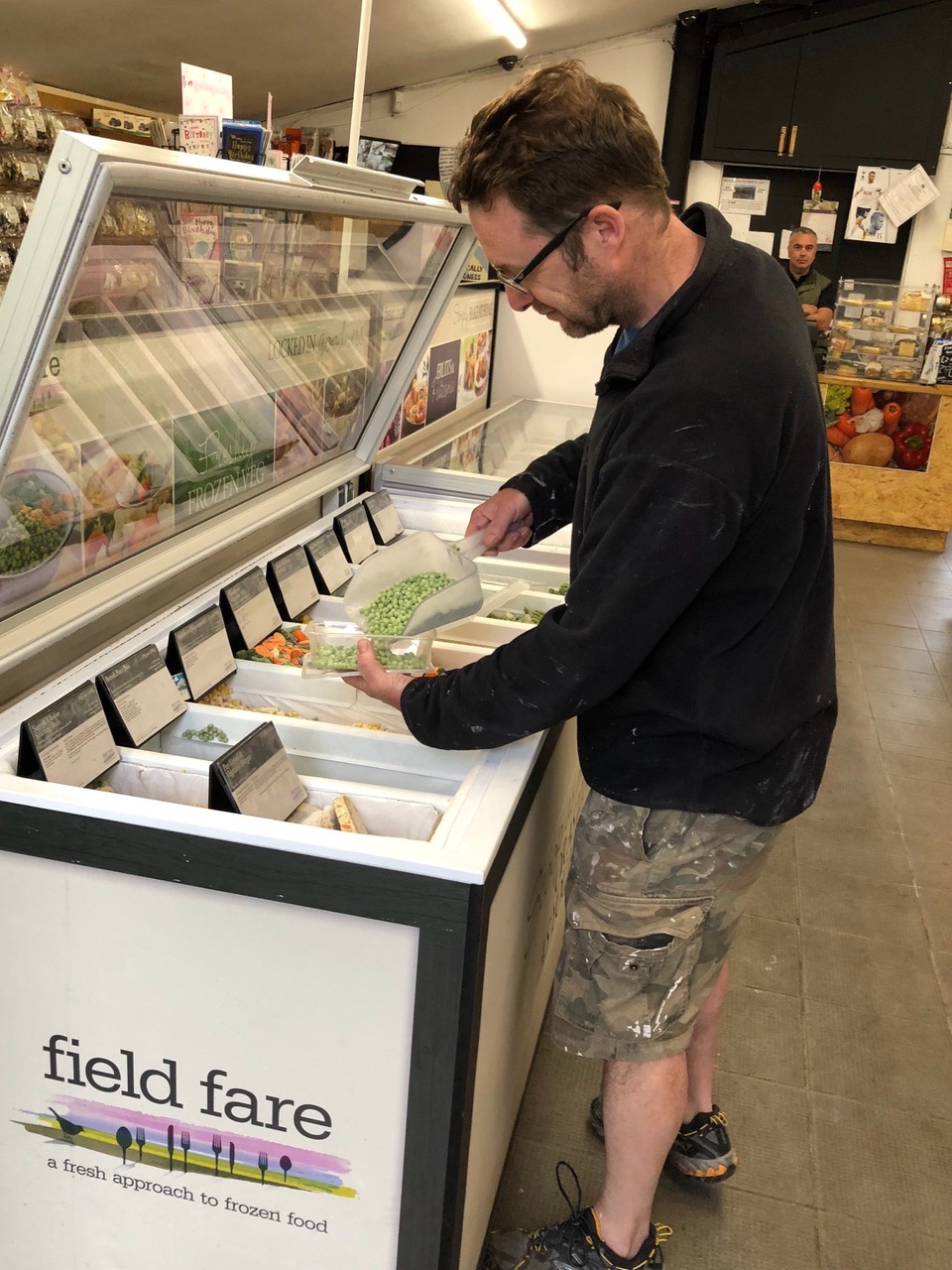 3. Where do you source all your products?
Our main criteria for putting the field fare logo on a product are quality and authenticity, so we go straight to independent, specialist producers, many family run, that have honed their skills and recipes across generations. So, our Pasties come from Cornwall, our fresh, stuffed pasta from Liguria in Italy, our patisseries from Belgium, our Grade AA Peas and Petits Pois from East Anglia, our Roast potatoes from Yorkshire, and so forth. We hunt out the best. Which also includes Kent, of course. Of our Kentish producers, we buy our suet puddings, meat and fruit pies from Kentish Mayde, based in Biddenden, who have been making exceptional pies for two generations and are still family run; and our classic Toad in the Hole is made with the aptly named Kent Korker sausages.
4. Why is Kent so critical to the success of your business?
The reputation of Kent as the Garden of England is a very positive association for a brand that stands by quality, traceability and freshness as its watchwords. And being part of a Kentish foodie community, defined by specialist producers and innovative artisans is something that field fare is proud to be. And given that we have 16 field fare stockists in Kent, Kentish shoppers are clearly a discerning bunch too!
5. Can you tell me more about the charities you support?
As part of our anti-food waste ethos, we variously donate any product that has passed its sell by date, but is still perfectly safe to eat to charities. They include Waste Not Want Not, a small independent charity in Poole, Fare Share, who redistribute an incredible 28.6 millions meals per year to people in need across the UK. There should be no excuse for food waste. Particularly with such a simple solution available in nature's own preservative: Freeze it!
6. Field Fare is a great supporter of the rural community in Kent, can you tell us more about that?
We are, in fact, a part of Kent's rural community, with our offices based on Black Robins Farm – a working farm in Edenbridge – and are quite used to chickens strutting through our offices. But our farming links are UK wide. 350 of our 400 plus stockists are farm shops, so the link has always been there and the commitment to supporting the rural economy – we only supply independents. So much so, that we were given hard won permission by the National Farmers' Union to use their Support British Farming logo – which we do with pride. I recently joined as a council member of the Farm Retail Association too, at an interesting time for farm shops, as consumers turn to local shopping, field to fork traceability and eco-solutions, and Brexit puts the spotlight back on British produce. I see exciting growth for the sector, indicated by a record 40 new farm shop customers for field fare in the last year. Next year, we are putting our money where our mouth is and are proud to be sponsoring the Rising Star category of the Farm Retail Association 2020 Awards.
7. We couldn't live without a little supply of Field Fare croissants in the freezer for special occasions; what is your favourite product and why?
My favourite product is our coffee roulade. When we have it at home with two teenage boys, you have to make sure you get a slice … my youngest (16) has been known to eat half of this six portion dessert in one go! He clearly has a discerning palate, though, because it won a Great Taste Award last year. Being a coffee lover, for me it is just the perfect blend of coffee and cream. I also always keep a couple of vegan and gluten free stand bys in my freezer, including our new Proper Cornish Vegan Pasty and Gluten free pie ranges; so that I'm prepped for any dietary eventuality that might turn up at my table!