Macknade – "Kentish Christmas" – £55
This hamper is packed with goodies from the garden of England. Kentish suppliers are great all-rounders, but they also have the edge when it comes to Christmas. Favourites include a festive beer from Shepherd Neame (made in Macknade's hometown of Faversham!) and Christmas Cookies from the Zingiberi Bakery, with dark chocolate, cranberries & seasonal spices. A wonderful festive gift, ideal for sharing… or not!
his hamper contains the following items:
Goupie, A Taste of Christmas
Hendersons Spiced Cider
Zingiberi Bakery's Christmas Cookies
Shepheard Neame Christmas Ale
Local Kent Honey
Macknade Orange Marmalade
Macknade No1. Tea Bags
Mighty Fine Things Festive Mulling Syrup
Zingiberi Bakery's Captains Crackers
Signature Macknade Box
https://macknade.com/shop/hampers/kentish-christmas-2/
The Kentish Produce Company – "A Kentish Christmas" – £34.50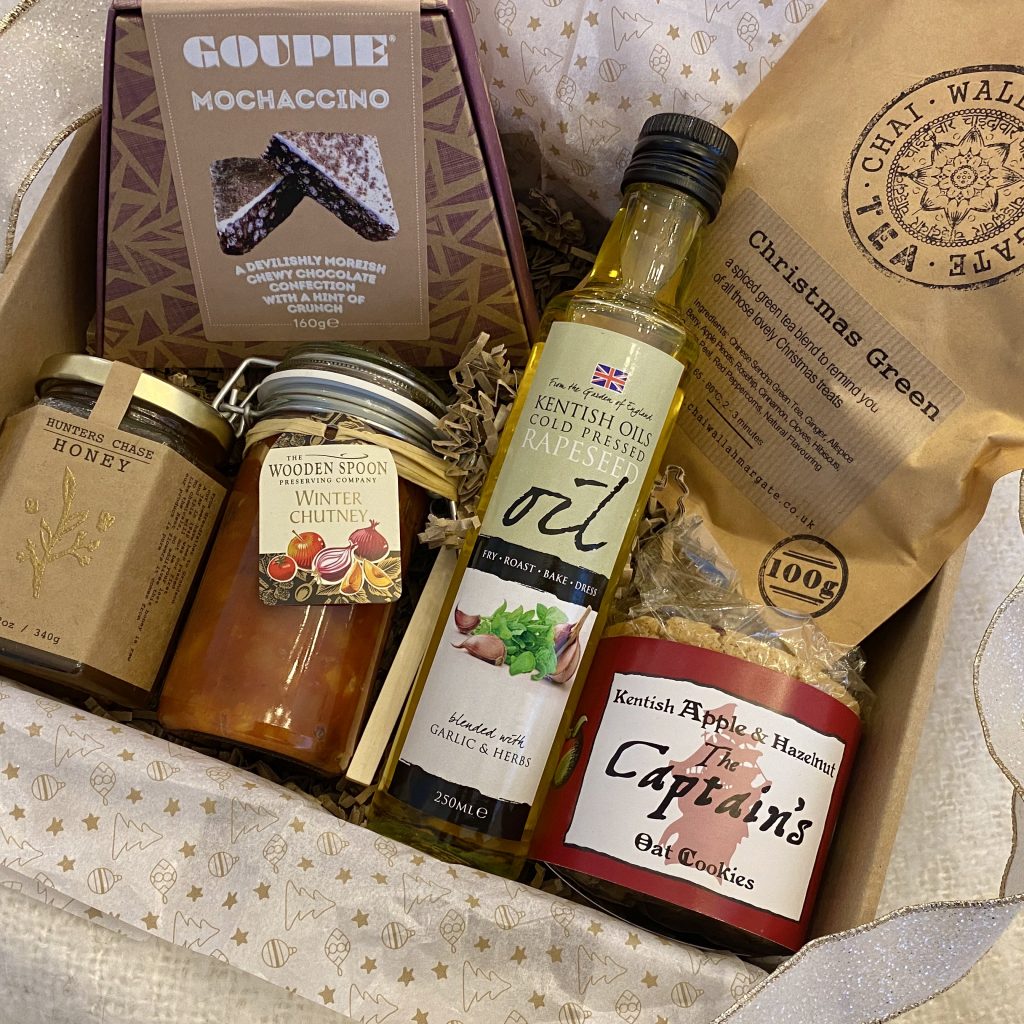 Treat someone to a gorgeous gift box full of our favourite Kentish goodies this Christmas:
Hunters Chase honey
Goupie Mochaccino chocolates
Zingiberi Bakery Kentish Apple & Cobnut biscuits
Wooden Spoon Winter Chutney
Chai Wallah Christmas Green tea
Kentish Oils Garlic & Herb Rapeseed oil
All these lovely, locally made products are carefully packaged up into one of our Kentish Produce Company boxes, ready to open on Christmas morning. We can either deliver it to you, or we can send it directly to the lucky recipient if you prefer – just get in touch with any special requests (don't forget a message!) and we'll do the rest.
www.thekentishproducecompany.co.uk/gifts
Macknade – "CHristmas Favourites" – £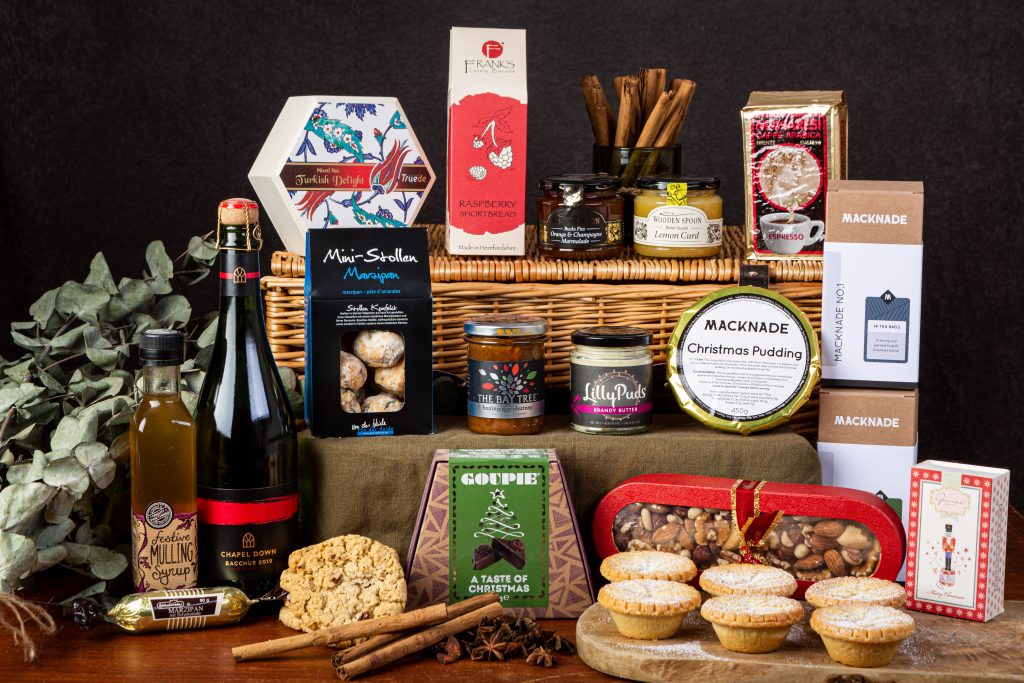 Brimming with all the classics, our Christmas Favourites hamper highlights our top festive products, which land in-store every October! You'll have everything you need to make this Christmas the best yet including a Macknade Christmas Pudding (with brandy butter of course!), mince pies and a bottle of English fizz to crack open on the big day.
This hamper contains the following items:
Mini Marzipan Stollen Bites
Turkish Delights
Chapel Down Sparkling Bacchus
Mighty Fine Things Festive Mulling Syrup
Mince Pies
Macknade Christmas Puddding
Orange & Champagne Marmalade
Lily Puds Brandy Butter
Mixed Nuts Selection
Franks Luxury Shortbread
Boxing Day Chutney
Marzipan
Nut Cracker Chocolates
Wooden Spoon Lemon Curd
Goupie Boozy Christmas
Macknade No1. Tea Bags
Macknade Minty Tea Bags
Zingiberi Bakery Christmas Cookies
Manaresi Ground Coffee
Wicker Hamper Basket
https://macknade.com/shop/hampers/christmas-favourites-2/
The Whitstable Hamper Company – £30-150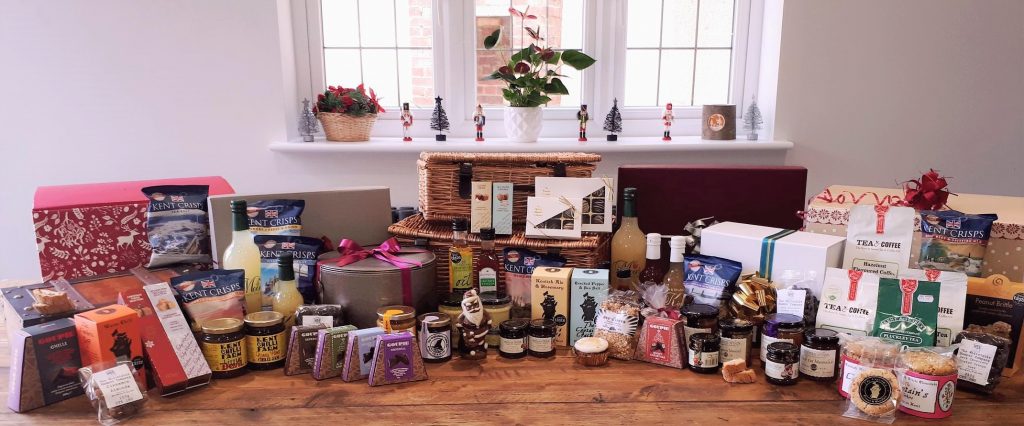 The Whitstable Christmas hampers are now online, with some fantastic new products for our 2020 Christmas range.
Meanwhile, we are still taking orders for bespoke hampers, from £30 to £150. Below are some of the items we currently have in stock. Other items are available and are currently being added to our "Why not add" section.
The hampers include
Local organic juices from Bardsley Juice and Biddenden Vineyard. Handmade chocolates from the Kentish Chocolate Co. Handmade cookies from Zingiberi Bakery. Hand baked crackers from Zingiberi Bakery. Fudge selections from Fudge Kitchen. Chocolate and nougat selections from Cocoba. Spicy fig & plum chutney, sweet piccalilli or chillililli from Whitstable Pickle co. Orange blossom honey, orange & champagne marmalade, red onion marmalade and different preserves from Wooden Spoon Preserving Co. Cold pressed rapeseed oil from Kentish oils. Classic and garlic mayonnaise from Kentish oils. Goupie chocolate confectionery in various flavours (eg salted caramel, original chocolate, sesame butter)Seven flavours of Kent hand cooked crisps.