A Spiritual Awakening in Chatham
This is the second time I've been to Chatham in the last few months, the last time it was to visit the very elegant Café Nucleus on the high street. This time, I had a scenic but no less flavourful visit taking in the harbour and Marina end of the historic dockyard – did you know there was a Marina? I'm rather embarrassed to say that I did not. And it's absolutely gorgeous, full of yachts and motor cruisers glistening in the sunshine. After travelling far and wide to taste the best of Kent, I believe I had wholly overlooked this incredibly beautiful corner of the county.
I was lucky enough to be invited to visit Copper Rivet, where there is a spiritual offering for anyone who likes a distillery and a surprising restaurant for those who enjoy a full belly and a cracking view.
The building deserves an introduction if nothing else – Pumphouse Number 5 was built in 1873, majestically constructed from orange-red brick with beautiful white lines, pillars and circular windows. The building housed cutting-edge hydraulic technology, back then it was used for the purpose of draining the four dry docks. These days it's certainly not dry!
Bob Russell met us as the door and gave us the statutory Covid-safety briefing before commencing a tour of the distillery. Before we get into that, it's worth knowing that Bob opened one of Kent's first ever wine bars – Topper's in Rainham – a man of vision and of spirit. It was a chance conversation with the gift buyer for BHS that sent Bob down the path of procuring spirit-based giftpacks for retailers. But he harboured a dream to make his own spirits. It was Bob's son Matthew in 2005 who spotted Pumphouse Number 5 from across the water, whilst visiting nearby Upnor Castle with his young family. He spotted a "for sale" sign and a plan started to formulate. It wasn't a simple process but in 2016 the Russell family acquired the old Pumphouse and in December 2017, H.R.H. Princess Royal officially opened Copper Rivet Distillery in Chatham's Historic Dockyard.
On our trip the distillery was in full service (it isn't usually when people visit towards the end of the week) but today the air was cool and filled with the aromas of steel and grains and it was really loud, with the whirring of metal parts, the whoosh of water filling the Tuns and the clanking of machinery fulfilling its life purpose. As we were guided up the staircase to peer into the Lauter Tun from above, the temperature started to rise bringing the aroma of banana and tropical fruit on the steam. From this vantage point we could see over the top of the Tuns, and various different Stills.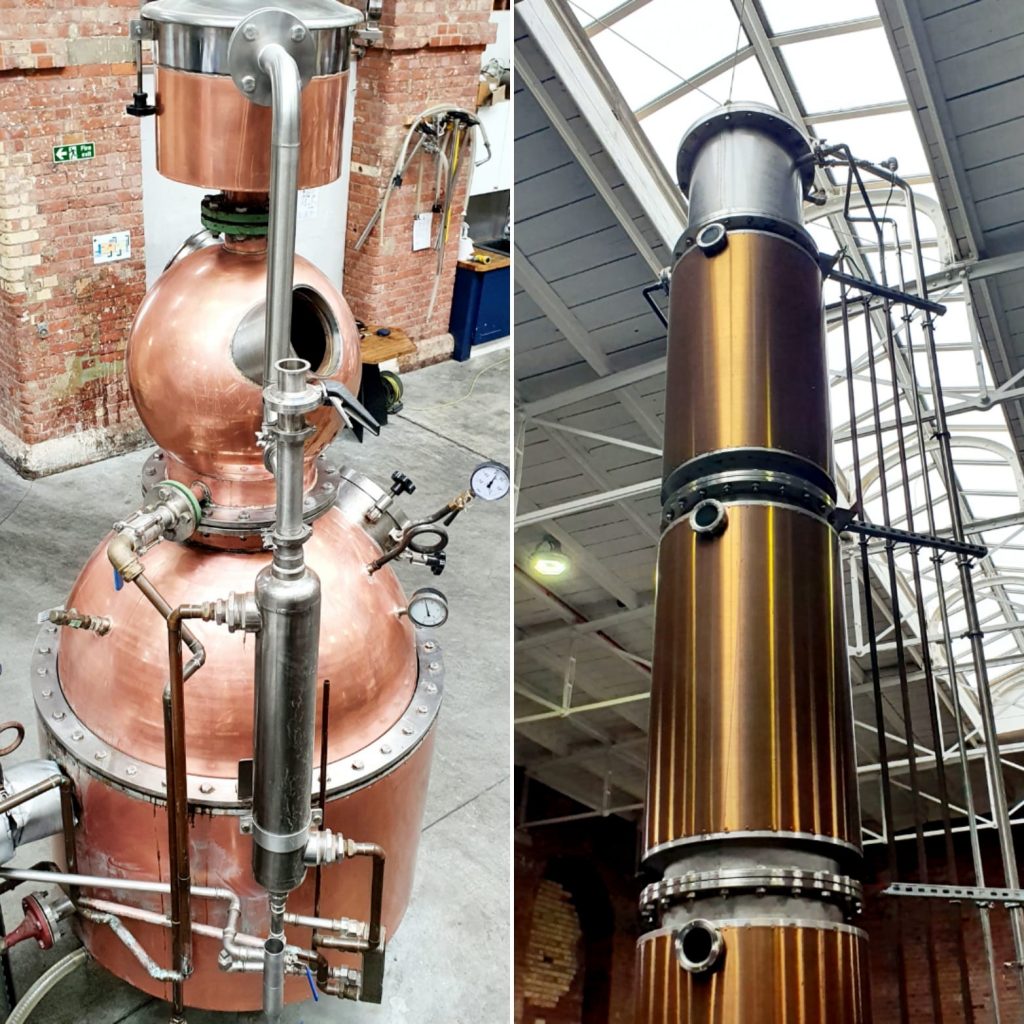 All the Stills are designed by Head Distiller Abhishek "Abhi" Banik, and his Copper Still is the King of the room, rising right up into the rafters of the building, grateful for the clearance afforded by the raised windows running along the spine of the building which offer the imperative 50cm clearance for this 10metre giant to stand up straight. Later we were to meet a naval-looking Banik Still which we came to know as Janet. It's unique shape and design allows for two types of gin distillation as well as a more careful handling of the botanicals, a process which is credited with giving the Dockyard Gin its unique character. Along with locally sourced barley, rye and wheat.
Next, we went inside for a tasting with South African born Dom, the General Manager of the Pumproom Restaurant. Dom's passion for his subject matter was palpable. We started with the Vela Vodka, which to me smelled of ice cream and tasted sweet with a rye kick at the end, this is a vodka with flavour!
The Dockyard Gin is famous for its unique character, the glass is bursting with aromas of orange peel and citrus reminds me of marmalade with hints of coriander and cardamom. Rather brilliantly, it tastes exactly how it smells, of sweet orange sherbet, juniper, liquorice with a peppery bite. The finish is long, complex and multi-layered. I know gin isn't for sipping over ice really, but who made the rules anyway, this is a gin which doesn't need a mixer. You, however, might need a taxi.
The Strawberry Gin was fascinating, we discovered the strawberries are supplied by Marion Regan the owner of Mereworth based Hugh Lowe Farms, the Strawberry grower who famously supplies Wimbledon, amongst many other sporting events and venues. Dom explained that the gin is poured over the strawberries and left until all the natural flavours and colour is leached out into the gin, the strawberries are left completely white and the spirit is left pink. Apparently, these albino strawberries are popular with Will the Pump room chef who uses them for various sauces and desserts in the kitchens.
Then we moved on to the Pot Still Whisky, which is light in colour with a real cereal nose, with hints of porridge, banana peel and a finish of white chocolate. To me, it tasted smooth and fruity with more tropical fruit flavours and brown sugar notes.
The Copper Still Whisky is extraordinary. Having married a Scot my experience of whisky is an on-going education, I don't think we'll ever end but I have honestly never tasted a whisky like this. The aromas of banana, toffee and biscuit immediately remind of favourite dessert, Banoffee pie. On tasting the flavours come in waves, the mouthfeel is warm, rich and smooth with layers of banana, toffee and malt. It's sweeter than most sure, but for me as a someone who maybe isn't a natural whisky drinker this is a tipple I can get really quite excited about!
The pride at which Bob and Dom talked about the spirits and head distiller Abhi is very clear. This is a company that cares not only about the product it is creating but also the people who create it.
By this point, everyone has really relaxed into the day. Thoughts of school pick ups and what work was supposed to be the focus of the afternoon has disappeared as fast as the spirits we were tasting. The Pumproom had taken us. We were led out on to the most unexpectedly breath-taking terrace, I don't know what it says about me (nothing good) but I was not anticipating such a beautiful spot for lunch!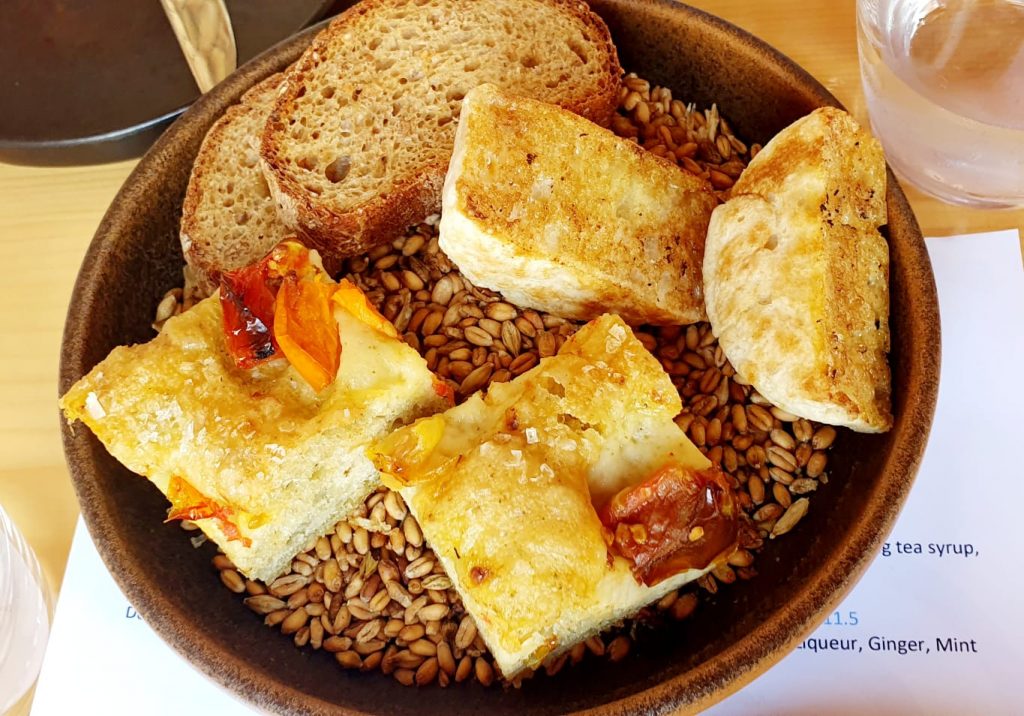 We were spoiled for choice, every week the menu is changing but when we were there we could choose from Mackerel ceviche with lime, basil and green apple (which was popular on our table), Scallops served with treacle cured trout, sesame, and Sussex tomato Ponzu (which is what I went for), other options included Grilled Courgette and Halloumi Salad with a salsa verde or Coronation Chicken Kiev with curry butter, almond and raisin (which I very nearly ordered).
Following this we could choose from a 35day aged Minute Steak with café de Paris Butter and fries (I mean, this had most of us at hello), Dayboat catch (which was Skate that day) served with cider chorizo broth, mussels and broad beans (the second most popular dish on the table) – Rupert was so torn he went for both! Other options were the Wild Mushroom polenta, with beetroot, crispy artichoke and pumpkin risotto or the Saddle of Lamb with aubergine caviar (rather wish I'd ordered this just to know how it tasted) served with kale chimichurri, goats curd, lamb scrumpet and Jersey Royals.
I could have spent all day on that terrace. Absolutely stunning in the afternoon sunlight, an unexpected joy. Go for the distillery tour and stay for the food and the view! There's plenty of parking but recommend you find someone else to drive so you can really enjoy it!
Copper Rivet Distillery Pump House no. 5, Chatham Dockyard, Leviathan Way, Chatham ME4 4LP