Taste Kent Meets Nimisha Raja, Founder of Nim's Fruit Crisps
From humble beginnings in Nimisha's garden shed, Nim's Fruit Crisps has turned from a Mother's passion to provide healthy and delicious snacks for her children, into a national brand now available in Tescos stores, as well as independent shops across the country. Taste Kent recently spoke to Nimisha about her journey and what the future holds for her Kent-based business.
Nimisha, thank you for talking to us today. For those readers that haven't yet heard of Nim's Fruit Crisps, please tell us a little more about your business.
Nim's is based on the Trinity Trading Estate in Sittingbourne, where we manufacture air dried fruit and vegetable crisps and most recently infusions and edible teas again made from fruit and veg.
We buy in fresh produce as locally as possible and love to use the wonky fruits and vegetables that the big supermarkets often reject. Nim's process tonnes of fruit a week and produce very little food waste as we process the whole fruits, pips, core everything, meaning more nutrition for you and almost zero food waste. What little food waste we do produce, is collected and turned into green energy. We are the only manufacturer in the UK making 100% natural. Air dried snacks.
Where can we buy Nim's?
Nim's fruit and vegetable crisps are available to buy in 1,400 Tesco stores nationwide and 100s of independent shops across the UK. You'll find us in the Fresh Fruit section, in the Dried fruit, nuts and seeds aisle. You can also find us in various locations across Kent; Macknade Fine Foods, Brogdale Farm, The Historic Dockyard Chatham, William Harvey Hospital Ashford, Doddington Place Gardens and online.
Congratulations on creating a totally unique range, where do you get your ideas?
Having the freedom to innovate in our very own Makery means that whenever we see a gap in the market or a new fruit or veg appear, we can straight away begin to experiment and create something new. The team are always coming up with new flavour combinations and mixing fruits and veg together to see what tastes complement each other. What we always aim to do is create new, exciting, good for you, delicious snacks that people will want to eat time and time again,
We tasted your incredible new watermelon crisps, are they any fruits that can't be air dried?
Glad to hear you enjoyed them, thank you.
We can pretty much air dry any fruit or veg that can be sliced. Berries can be a little more difficult but we are working on improving our processes to ensure a great end product.
Have you launched any new products recently?
We recently introduced a range of infusions. These are orange, lemon, lime and cucumber slices which can be added to drinks and after a few minutes rehydrate back to their natural state. The beauty of these products is that bars, restaurants, pubs and even at home, you don't have to have fresh orange, lemon and lime as our infusions have a very long shelf life and look great in a glass jar sitting by the drinks. This reduces waste and is so convenient.
The other new product we launched very recently was the first ever fruit and veg mixed crisps. Two very exciting combinations both centred around Pineapple. The first is Pineapple and Cucumber, a very refreshing flavour combination, very summery. The second is Pineapple and Beetroot, the colour of these two crisps together is stunning and the great mix of earthy beetroot with the tangy pineapple is delicious. You can find the Pineapple and Beetroot in Tesco and the Pineapple and Cucumber on our website.
Nim's are also thrilled to have partnered with Save The Children UK in their centenary year. For every pack of apple or watermelon crisps bought over the next few weeks, 5 pence from every pack sold will be donated to Save The children UK to help continue their amazing work. Look out for packs featuring the STC sticker at your local Tesco stores.
What are your plans for this year and beyond; what does a Nim's shaped future look like?
Fruit and Veg shaped that is for sure! Looking into 100% recyclable packaging is a must for us, we are always looking for ways to improve upon our sustainability and environmental policies. Nim's are a sustainable company and was set up to be so from the outset. Where other companies are now trying to implement changes to become sustainable and create sustainable products, we can proudly say that all of our products are sustainable meaning that the business is too.

We are innovators at heart so needless to say we have a few new products we are experimenting with to launch later in the year. We are also launching into the NHS this week, as well as another high street retailer in September – so watch this space!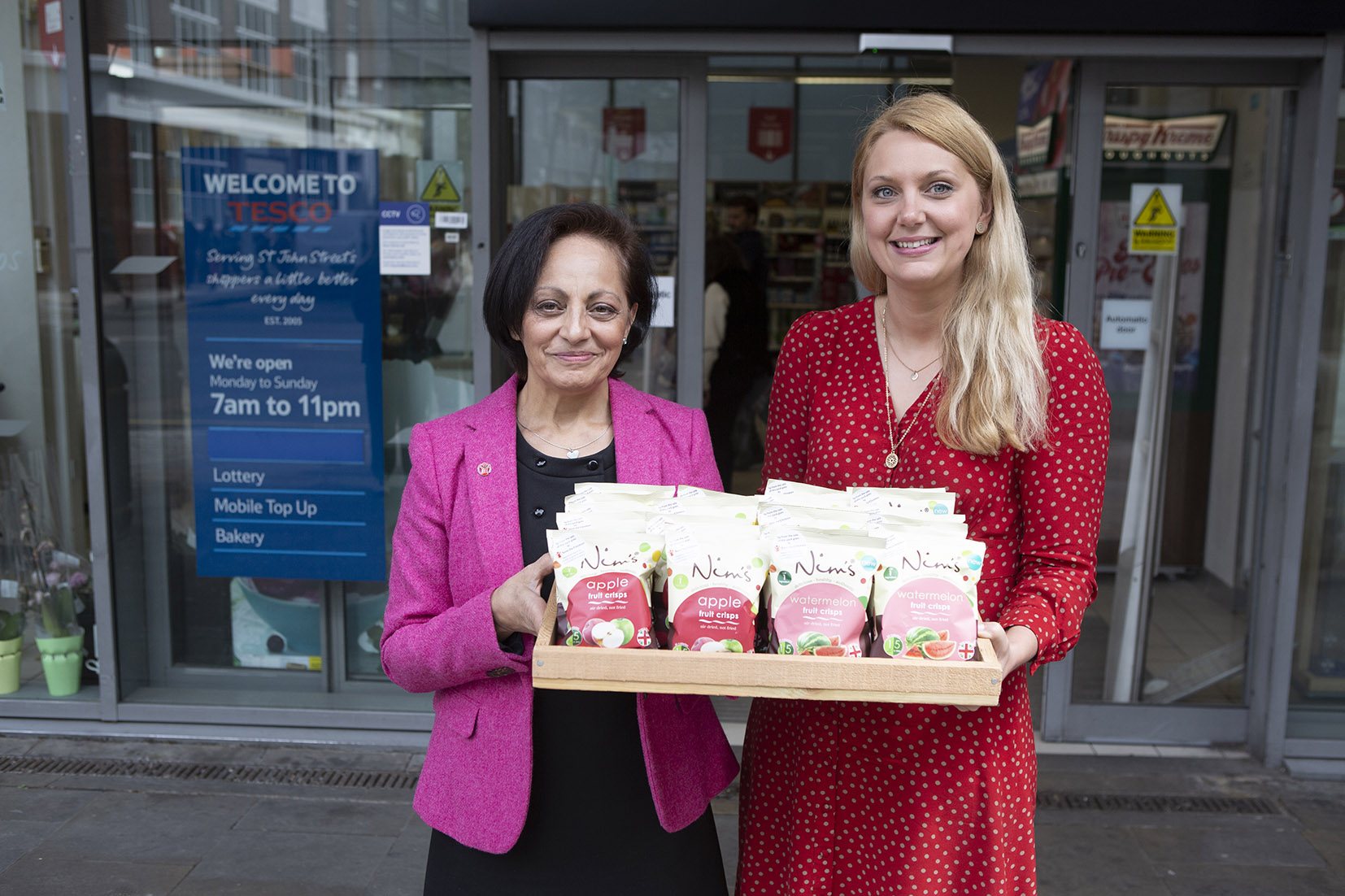 Nimisha Raja, Founder of Nim's Fruit Crisps