Mastering the Art of Mixology is Thirsty Work
You're invited to join a cocktail masterclass in the countryside near Chilham in a converted barn on a Thursday afternoon in August said the invitation from Kent-based mobile bar business The Thirsty Farriers.  Sounds like a dream, I thought.  We'll serve up some sourdough pizzas to go with the cocktails.  No brainer – cocktails AND pizza – book me up!
So, on a surprisingly sunny Thursday afternoon (let's face it, better to expect rain in August), myself and around 20 fellow attendees gathered around an extraordinarily long, narrow, exquisitely decorated, rustic table in The Carpenters, a charming, converted barn and popular wedding venue, complete with chandeliers. With cocktail shakers, hawthorn strainers, jiggers, and martini glasses at the ready, the excitement was palpable.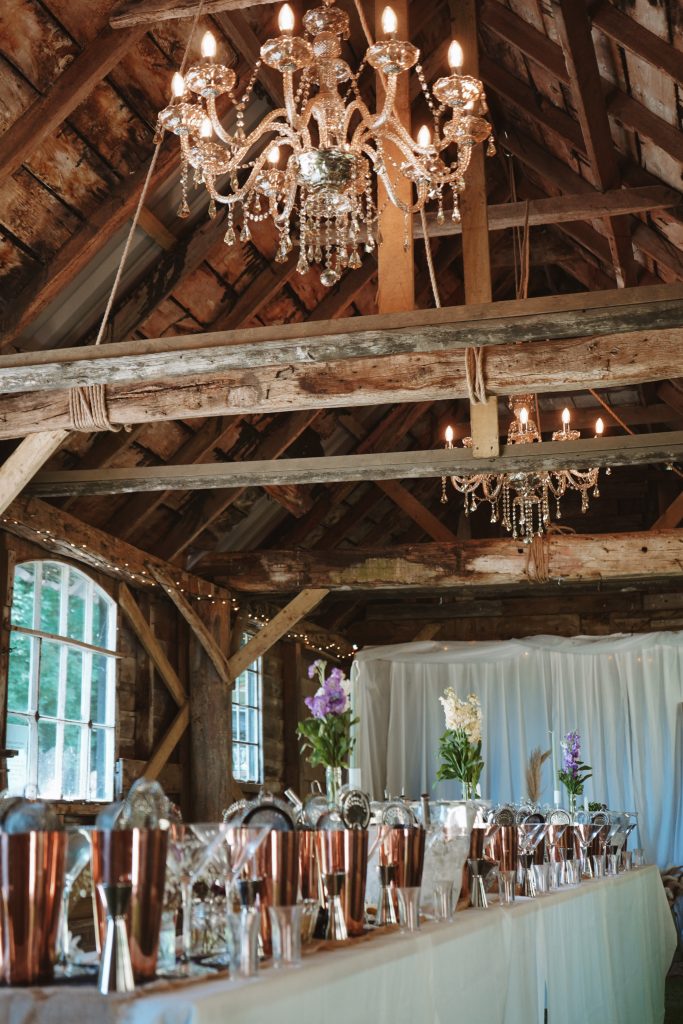 We started with a Passionfruit Vodka Martini, our tentative hands trying to master those mixology moves and, as is so often the case in a masterclass, it turns out that what the bartenders make look effortless is much harder than you think.  But practice makes perfect – or somewhere closer to perfect – and with the next Espresso Martini, things were looking promising. By the third cocktail – the eminently quaffable and – my favourite – the Gin Fizz – we'd all but perfected the glass and shaker suction, the uncoupling of said shaker and glass and the one-handed strain into the mini sieve – even if our measurements with the jigger were a bit gun-ho! 
Luckily our brilliant hosts, The Thirsty Farriers, brothers Jon and Dan had bags of patience and sense of humour in spades.  Set up in late 2019 just before the global pandemic hit, The Thirsty Farriers enterprise brings together Jon's expertise and passion for engineering and Dan's experience in hospitality and mixology.  Engineering?  Turns out it comes in handy when you're building a business that takes cocktail making to all kinds of events – think weddings, corporate events, celebrations, and team building.  Jon is the mastermind behind their signature bars: the mint green vintage horsebox bar; their collapsible rustic bar, which was designed to be mobile and fit in a lift; and their Prosecco piano, which he revamped as a novelty receptacle for bottles and glasses of Prosecco and is popular at weddings.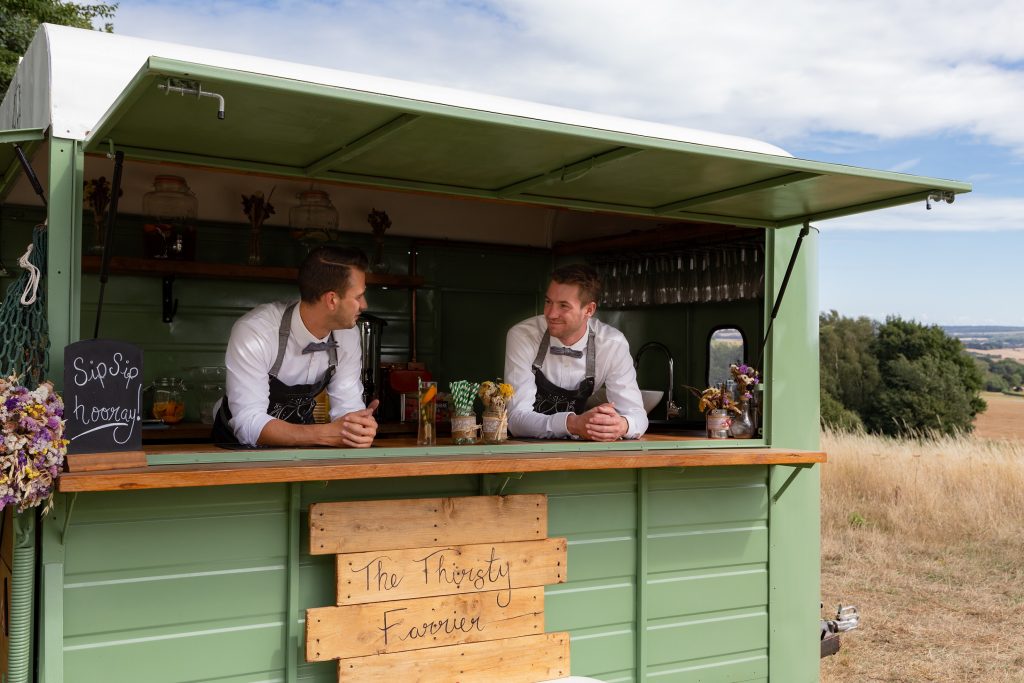 Back to the cocktails – and pizza!  As we leisurely sipped our cocktail creations al fresco – making the most of that sunshine – we devoured ridiculously delicious sourdough cheese and tomato pizzas straight from the pizza oven of Zest Creations.  Topped with oodles of gooey mozzarella that sticks to your chin – there is no elegant way to eat it!  Imagine our surprise when we opened the next pizza box to discover a chocolatey pudding pizza – sourdough slathered in Nutella, Lotus biscuits, and salted caramel sauce – super simple but I'm thinking a bit of a showstopper snack at your child's next sleepover party!
Back to the cocktails…the good news is that following a successful run of virtual cocktail classes during successive lockdowns, The Thirsty Farrier's in-person cocktail masterclasses are back. So, if you fancy trying your hand at being a master mixologist, their masterclasses run for two hours, and include a private tutorial on how to make four delicious cocktails (£45 per person).
As the event drew to a close, with full hearts and stomachs, I and my fellow guests all agreed that If you're looking to recreate a beautiful, rustic style wedding or celebration, we'd come here to The Carpenters Barn at Lower Endsden Farm and have Jon and Dan and team serve an endless flow of cocktails and pizzas to our guests.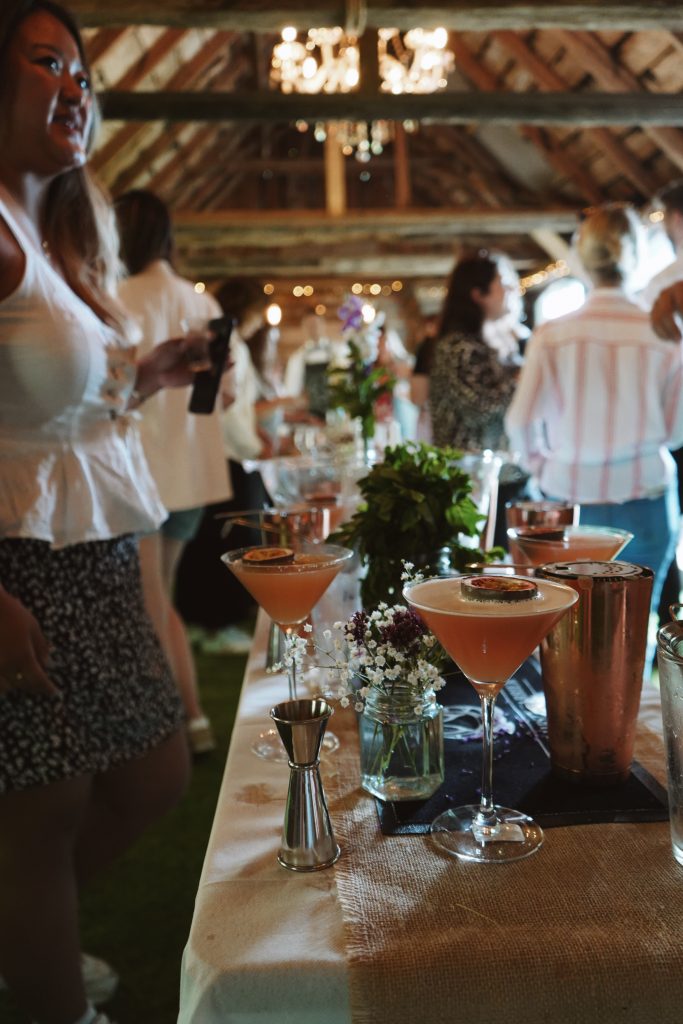 Jon and Dan are officially re-opening bookings for weddings and in-person events – with a personal promise to all customers that if any wedding or event is cancelled due to changes in coronavirus restrictions, every single penny will be refunded.
For more details, visit www.thethirstyfarrier.co.uk  or follow them on social media @thethirstyfarrier; follow @zestcreations on their socials and visit www.thequillweddings.co.uk for information on The Carpenters.
Tagged:
cocktail masterclass
cocktails
events
mobile bar
thirsty farriers
weddings