Kent condiment business, A Little Bit Food Co, has launched a range of Vegan Mayos this month. The new Vegan Mayo range is available in three delicious flavours including Mixed Herb, Lemon & Herb and Roasted Garlic & Herb.

If you haven't heard of A Little Bit Food Co already, it is a Kent based condiment company creating a range of dips, dressings & sauces, all made using fresh herbs, which are naturally flavourful, so there are no other colours, flavours or additives at all.
There's no doubt that enjoyment of vegan and plant based foods is on the rise so this new product range is certainly well-timed.
Laura Bounds, Owner, commented "We are very excited to be introducing three new vegan mayos to our range, which are not only ideal for the vegan market but also are intended to be enjoyed by those who are simply looking for a great tasting mayonnaise. A Little Bit is all about creating delicious condiments which demonstrate the versatility & natural flavour of fresh herbs, and the new mayos complement our existing range perfectly."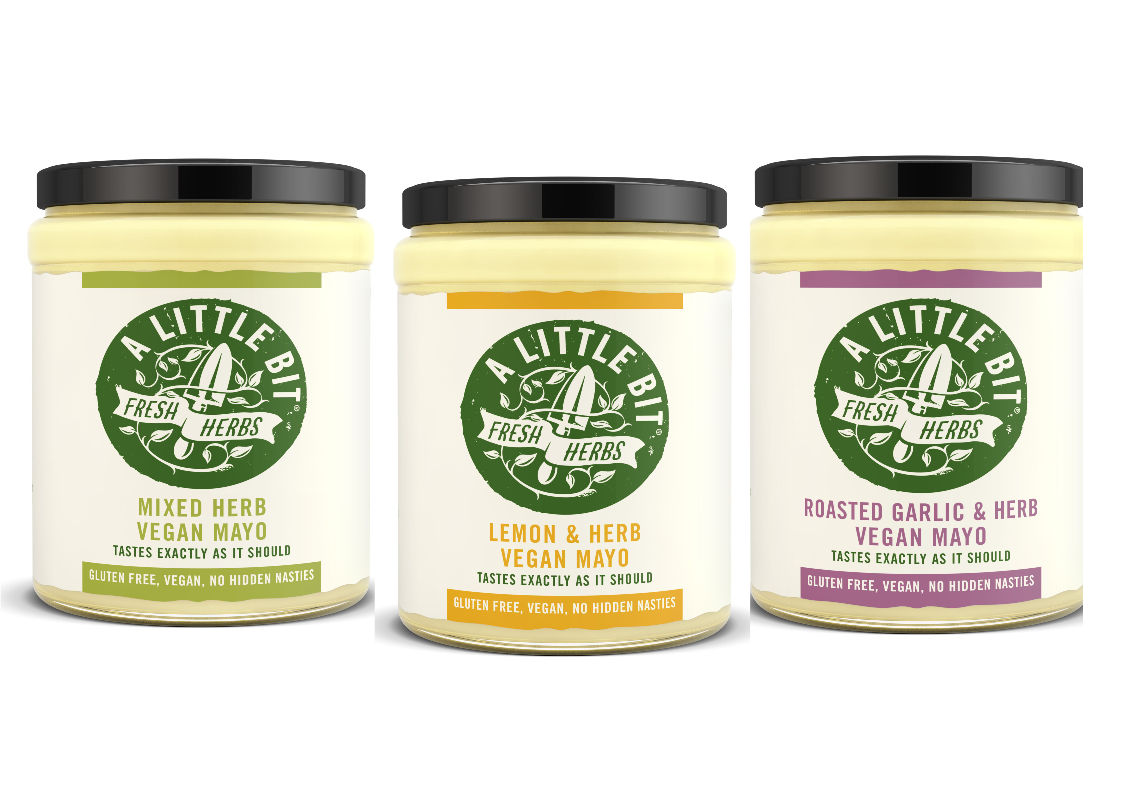 A Little Bit's Vegan Mayos are made using cold pressed rapeseed oil which is blended with fresh herbs to create an egg-free alternative which tastes exactly as it should. This new product could work well as a dip, dolloped on a vegan burger, or swirled through pasta.
The range is available to buy in selected retailers or from the website for home delivery at priced from £3.75.
A Little Bit Food Co was established in 2014 and inspired by the versatility of fresh herbs and their ability to transform a sauce or dressing into something a little more extraordinary.
A Little Bit Food Co range includes:
Fresh Rosemary & Tomato Ketchup
Fresh Thyme & Roasted Red Pepper Ketchup – NEW
Fresh Bail & Tomato Sauce
Fresh Sage & Spicy Tomato Sauce
Fresh Oregano, Olive & Tomato Sauce
Fresh Mint & Raspberry Dressing
Fresh Parsley & Red Onion Dressing
Fresh Tarragon & Lemon Dressing
Fresh Thyme & Balsamic Dressing
Fresh Thyme & Butternut Squash Dip
Fresh Oregano & Aubergine Dip
Fresh Mint, Pea & Parsley Dip
Fresh Mixed Herbs Vegan Mayo – NEW
Lemon & Fresh Herb Vegan Mayo – NEW
Roasted Garlic & Fresh Herb Vegan Mayo – NEW